Students Meet Their Cricketing Hero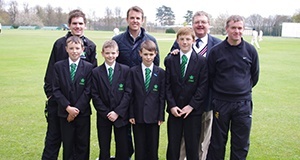 Four talented cricketers have been given a master class by one of the sport's superstars.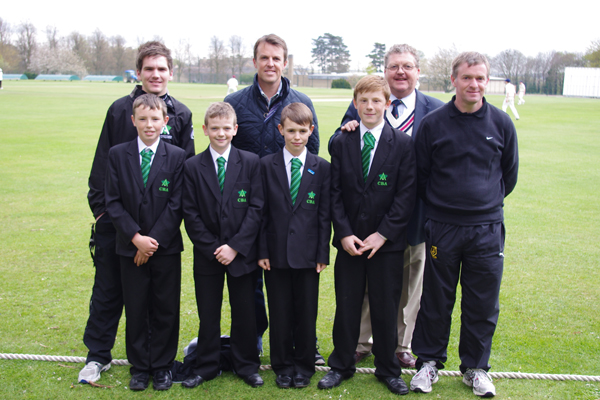 Four talented cricketers have been given a master class by one of the sport's superstars.
England Bowler Graeme Swann gave students Thomas Keeney (Year 7), Jonathan Freeman, Zak MacGraw and Thomas Chenery (all Year 8) some words of wisdom during an hour long chat at end of their training school with the Marylebone Cricket Foundation.
The world class cricketer – who has been recently voted the England Team's most valuable player – was attending the programme's finale and spoke to our students who had attended for presentations.
CBA Cricket Coach Jordon Joseph said: "After watching Oundle School Sixth Formers play against a selected team from the MCC, we were invited to the pavilion to meet Graham and he spent an hour talking with our students.
"He gave them some advice and told them all about how he got into cricket and how it was hard as he didn't have the opportunity to play school cricket.
"He also complimented what we are doing with Cricket here at CBA and was impressed with the strength of our squad and our ambitions."
The England cricketer who comes from Northamptonshire gave each student a signed shirt and also a signed DVD.
He was invited to the event by MCC Coach John Wake, who has been training the four students over the winter season.
After their private chat the students also took part in a question and answer session along with other students who had taken part in the talent programme.
The four were selected to take part in the initiative which aims to raise the profile of the sport within state schools.
Zak McGraw said: "It was a great experience and he advised us never to give up and to work hard. The talent programme has been great as it has taught me some new skills and improved my ability as a player."
The Under 13 team's first game of the season is on Wednesday, May 2nd against Brooke Weston.
Pic supplied by CBA Parent Governor Clive Chenery.
Click here to go to a gallery of pictures.