Visit from author Morris Gleitzman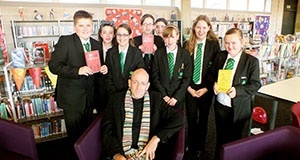 Children's author Morris Gleitzman signed books and spoke to students about his work when he visited CBA last week.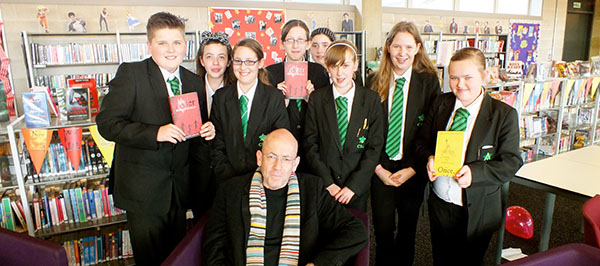 Students from other schools including Kettering Science Academy, Brooke Weston Academy, Lodge Park Technology College and Wrenn School also came along for the visit on Thursday, October 18.
Mr Gleitzman wrote his first children's novel in 1985 and his latest title 'After' has just been published. The book is the fourth in a series of children's novels about Felix, a Jewish orphan caught in the middle of the Holocaust. The other three titles are 'Once', 'Then' and 'Now'. He has also written a number of funny children's books.
Mr Gleitzman's books have been published in the UK, the USA, Germany, Italy, Japan, France, Spain, Portugal, Holland, Sweden, Finland, Iceland, Indonesia, Czechoslovakia, Russia and China.
During his visit Mr Gleitzman spoke to CBA and visiting students about his latest book and signed books in the theatre. He then attended a special tea party in the library, where he answered students' questions.
Librarian Amy McKay said: "It's always fantastic to give students the chance to meet and interact with successful authors. Morris's 'Once' series is already popular and looks set to be firmly ensconced in our Top Ten Borrowed Books list for months now."
Year 9 student Mason Lenaghan, who asked Mr Gleitzman several questions at the tea party, said: "It was good and very interesting. I asked him what inspired him to write the book After."
To view a gallery of pictures from the visit click here.