Students get creative during Enterprise Day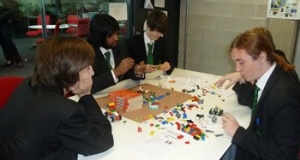 Students got creative during various activities on CBA's latest Enterprise Day.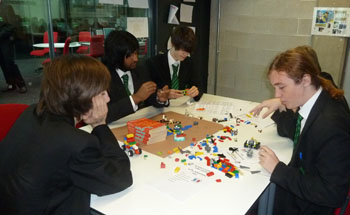 Students got creative during various activities on CBA's latest Enterprise Day.
The special day of activities took place on the last day before half term, Thursday, October 25.
ICT teacher Mr Lodhi came up with a novel way of getting students to use their ICT and team building skills during the day.
Students played a Monopoly-style board game using images of hardware, such as iPads and mobile phones, instead of properties.
Students also designed their own CBA currency and Community Chest cards.
French students took part in a Harry Potter project and used their enterprise skills to produce posters and 3D models for the Weasley brothers' joke shop.
Others worked with Mathilde Briaud, our French assistant, and improved their listening skills with a French song 'Bienvenue a Halloween'.
Spanish students enjoyed a food tasting activity and improved their speaking skills by expressing their likes and dislikes in Spanish.
In our DSP, students experienced life in France for a day. They took part in a range of activities which included learning the language, tasting the food, building models of the Eiffel Tower and creating French impressionist style paintings.
In the gym students cycled the length of the Tour de France, climbed the Eiffel Tower on steps between them and rowed across the channel on the rowing machines.
Teacher Sarah Wayment said: "The students were put in mixed groups and worked together to make the day a great success. Students demonstrated their ability for creative thinking, team work and effective participation."
To view more photographs from Enterprise Day click here.