Unit fun day raises £1,600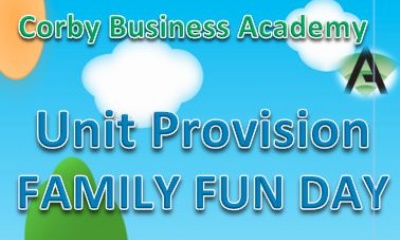 CBA's first Unit Provision family fun day proves to be a huge success after doubling their target of raising £800 to fund their Key Stage 4 residential trip.
The day consisted of a variety of stalls and games as well as live music and food. The stocks were incredibly popular with students, who were queuing up to throw sponges at Mr white, who spent the majority of his day soaking wet. Mr Lapsley's BBQ was also a big hit and resulted in him selling out of food. The children also enjoyed looking around the stalls, playing archery and getting their faces painted.
Assistant Manager of the Unit Provision, Mrs Brown said: We have been blown away with everyone's generosity. Parents, staff, friends and family, our Priors Hall neighbours and PC Candy Liverpool from Corby neighbourhood team all came to support the event.
'The money raised will be used to fund a 3-day visit to Frontier Centre in Irthlingborough where the students will take part in a variety of exciting activities such as raft building, high ropes, walk the plank and lots more.'
'This trip is such an important event for our students as it allows them to take part in new experiences and develop a range of skills such as teamwork, leadership, communication and confidence.
'This year we are also taking a group of Year 9 students to help with their transition into Key Stage 4. The team building activities will help the students develop friendships in the new group they will transition into in September.'
Thank you to Mr Lapsley for providing the BBQ, Mr Cameron from our IT department who entertained us with music throughout the day and all our other staff members who helped out by running stalls and donating prizes.
A huge thank you to all the local businesses that have support us by providing prices: Daisy Dots – Photography, Thunderbowl, Gallones Ice-cream, The Sweet Shop – Wren Spinney, Corby Pool, Adreneline Alley, Kino Lounge, Royal Tandoori Indian, Bosworths Garden Centre, West Lodge Rural Centre, Rockingham Speedway, Le Fonte Italian Restaurant, Dovecote, Wicksteed Park, Savoy, Wilkinsons, Boots, McDonalds, Asda, Tesco, Morrisons, Spread Eagle, Saxon Crown, Diamond Nails, Rachel Lafferty Beauty and Rockingham Cars.
#SundayFunday