Library to give Christmas presents to Year 7 students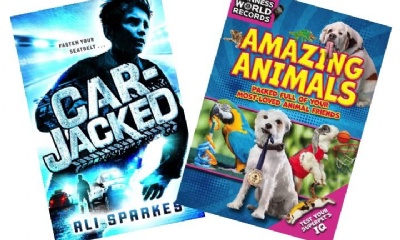 Every single student in Year 7 will receive a Christmas gift from our Library.
In September the Library invited all our Year 7 students to choose one book from a selection for their present and during the next fortnight the library will be busy handing out 200 wrapped books to the students.
The most popular titles this year are Car-Jacked by Ali Sparks and Amazing Animal by Guinness World Records.
Librarian Amy McKay said: 'Every Christmas we give our Year 7 students a book for Christmas because we want to encourage them to read during the Christmas holiday.
'There was a range of books for the students to choose in a variety of styles, genres and reading levels, meaning there was something for everyone.
'All of the titles are high quality contemporary books but they are not necessarily mainstream and we hope they open our students' eyes to new authors and genres.
'The National Literacy Trust has published reports which has revealed the positive impact that book ownership has on literacy levels but sadly one-third of young people in this country don't own a book.
'Here at Corby Business Academy we can say 100% of students own a book and there aren't many schools that can say that.'
Next term the Library will run a variety of competitions and activities connected to the books for those students who want to take their reading further.