About the Academy
Corby Business Academy opened in 2008, it is part of the Brooke Weston Trust (BWT) and is led by Executive Principal John Henrys and Associate Principal Janet Duggan.
With 25 years of experience of managing schools, the Trust's mission is to transform educational performance by making long-term commitments to communities.
Every BWT school has its own unique character, but they all share a culture of high expectations and ambition for all.
Our schools are based in Northamptonshire and Cambridgeshire, all of which regularly collaborate with each other to drive towards this ambition. This means that staff and pupils from across BWT work together to support each other, share best practice and try new ideas.
Over each academic year there are many opportunities for pupils from all our schools to meet, compete and celebrate success together.
For further information about Brooke Weston Trust click here.
Our Vision
Corby Business Academy is a place where the skills, abilities and aptitudes of all students are nurtured so they can be fulfilled members of society, contributing to that society, challenging and perhaps even changing that society so all have a sense of belonging and worth.
At Corby Business Academy we ask ' what would I want if this was my child?'. We challenge ourselves with this question when we consider our aspirations and our support for every one of our students.
Our motto is: 'Care enough to challenge enough'.
At Corby Business Academy the expectations and self-esteem of students and staff is high. Everyone has a 'can do' attitude and works constructively with others. Our students respond to this trust and faith that we place in them. The Academy seeks to become a Centre of Excellence in everything it does.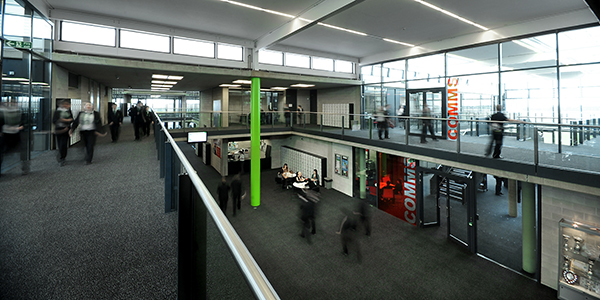 At Corby Business Academy:
Students and staff strive to become the best they can
Students develop the confidence to be active citizens in their community and the wider world.
The qualities of enterprise and initiative are encouraged among students and staff alike
Students can learn and teachers can teach in a safe environment
Every student will achieve the best academic outcomes possible
These aims will be achieved through:
Developing a full range of learning and thinking skills
Connecting the Academy to the real world of work wherever possible
Offering a wider range of subjects and activities than most other secondary schools
Demanding the highest standards of presentation for students and staff alike
Nurturing partnerships with and providing recreational services to the local community
Values
At the heart of our learning community lies:
Ambition, Commitment and Drive

Self-Management

Courtesy and Politeness

Kindness

Courage