British Library Tour and Workshop - February 2016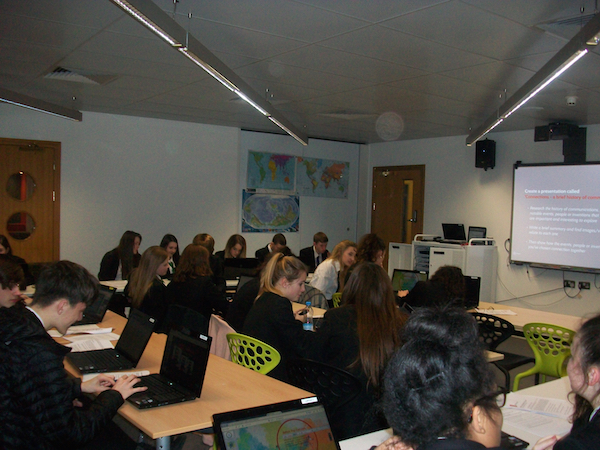 A dozen of our more able students visited the British Library in London as part of our exciting Race to the Top initiative.
During the visit the group of Year 11 students took part in a Digital Research workshop that taught them how to use search engines correctly, referencing and the importance of critically evaluating their sources.
They were then given a tour of the British Library and were challenged to find a number of resources within it.
CBA Teacher Charlotte Knight said: "The workshop taught them skills that they will be expected to have as they move forward to A Levels and degrees.
"During the workshop they were asked to look at a fake website set up by the British Library which contained information which turned out to be incorrect.
"It taught them the importance of critically evaluating sources rather than believing everything they read at first sight.
"Hopefully it will encourage them to read around subjects in more depth and be more investigative.
"It's the first time our students have visited the British Library and they really enjoyed the experience."
Our students were joined on the trip by students from our fellow Brooke Weston Trust school Kettering Science Academy which is taking part in the Race to the Top initiative with us.
Race to the Top is designed to encourage the more able students in both schools to raise their aspirations even higher.
Miss Knight added: "The Race to the Top scheme is helping us to further strengthen our relationship with Kettering Science Academy.
"It's good for the students to integrate and it's important for them to meet with other students similar to themselves because it gives them an idea about the competition they will face when they are applying for jobs or university courses."
To see more pictures from the visit click here