Curriculum
This page is currently under review. A new page will be available soon.
In this section of the website you can find out about the details of our curriculum across all Key Stages and also learn more about our faculties.
The CBA curriculum offers a broad and balanced range of subjects designed to support both personal and academic skill development. Our offer of subjects is designed to help all students to understand their place in the world and provide them with the pathway that will give them the best possible start in life and one that meets their needs.
Key Stage 3
The aim of our Key Stage 3 (KS3) curriculum is to develop successful learners, confident individuals and responsible citizens.
To achieve this, CBA's KS3 curriculum broadly follows the National Curriculum, where all students follow courses in:-
English
Maths
Science
Geography
History
Ethics
Active (Physical Education)
Design Technology (Resistant Materials, Food, Textiles)
Music
Modern Foreign Languages (French or Spanish)
Computer Science
Art & Design
Enterprise Skills
Our Business and Enterprise specialism is underpinned by the environment and ethos of the school as well as by the application of Enterprise skills within all lessons. We promote the development of these practical skills in order to prepare students for further education and the world of work. These 'enterprise skills' develop:
Independent enquiry skills
Team working skills
Creative thinking skills
Reflective learning skills
Effective participation skills
Self-management skills
CBA recognises the importance of developing high level literacy and numeracy skills and for this reason all subjects that are delivered at KS3 have a focus on the development of students' literacy and numeracy skills.
Our aim at KS3 is to give all students the opportunities to work to their full potential at the speed that matches their ability. Success by the end of KS3 gives students the greatest opportunity to excel during Key Stage 4 and 5 while developing a set of skills that will enable them to establish their own business, enter employment or continue into higher education with every prospect of success.
All students take their options in Y8, and depending on their need and level of qualification, will either start a bridging year in Y9 or start their GCSE/BTEC courses.
After consultation with all stake-holders, in September 2016, CBA revised the length of its lessons to drive greater engagement, pace and frequency of learning. The day now consists of 5 lessons and the allocation of subjects across a week (25 lessons) at KS3 is broken down as follows:
| Subject | Number of lessons per week |
| --- | --- |
| English | 4 |
| Maths | 4 |
| Science | 4 |
| Computer Science | 1 |
| Geography | 2 |
| History | 2 |
| MFL (French or Spanish) | 2 |
| Art and Design | 2 |
| Active (Physical Education) | 2 |
| Music | 1 |
| Ethics | 1 |
Key Stage 4
CBA offers a wide range of courses that can be studied at KS4. Some of the courses are 'core' and therefore have to be studied and some are 'options' that students can choose to study. Both the core and the options are made up of two main types of qualification, either GCSE or BTEC.
There are various routes that students can take at KS4 depending on the outcomes from KS3. These routes are made up of combinations of GCSE and BTECs. So that all students are offered an academically rigorous curriculum but one that is matched to the individual and the local context, CBA has matched its KS4 Curriculum to meet the Government's English Baccalaureate qualification consisting of a core set of English, maths, science, humanities and language qualifications. The challenge of these traditional subjects is complimented with the free choice of 3 further qualifications that can comprise of further GCSE, BTECs or a combination of both. This enables all students to sit a suite of qualifications that matches the Progress 8 performance measure.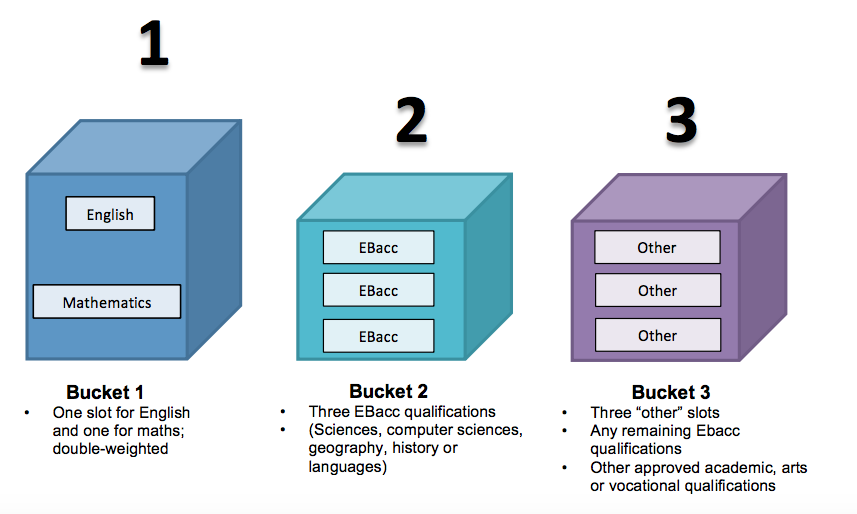 After consultation with all stake-holders, in September 2016, CBA revised the length of its lesson to drive greater engagement, pace and frequency of learning. This also allowed options subjects greater time on the KS4 curriculum to reflect the importance of students gaining a broad and balanced suite of qualification and to recognise the Governments increased focus on each student's best 8 qualifications. The day now consists of 5 lessons and the allocation of subjects across a week (25 lessons) at KS4 is broken down as follows: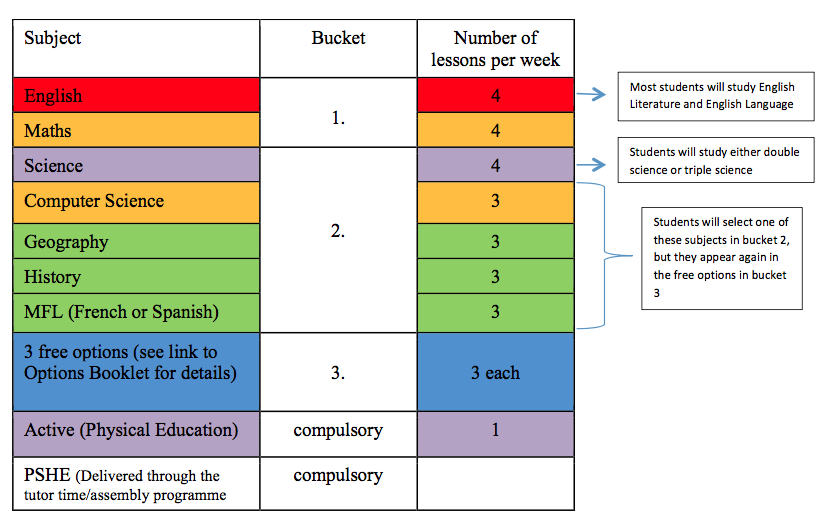 Key Stage 5
Following successful completion of KS4, students may choose to attend the Sixth Form where a range of courses can be studied. We offer both GCE and BTEC courses and also the EPQ. Our range of qualifications reflects our aim to prepare all students for university, apprenticeships or work.
At KS5 our range of courses changes each year in order to respond to the needs of the students. Our aim is to provide students with a range of subjects that will allow them to specialise in areas that interest them and that they wish to study further at university. Along with their core options choices, all students take part in an enrichment programme where they will study courses in work skills, active and community sport leadership.
In Year 12 students will have 5 lessons per week of each subject they chose and in Y13 4 lessons a week. For English and/or Maths GCSE re-sits, students will have 2 lessons per week.