New Head Boy and Girl are welcomed to their new roles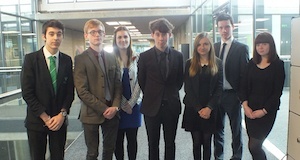 Our new Head Boy and Girl were officially welcomed to their new roles this week.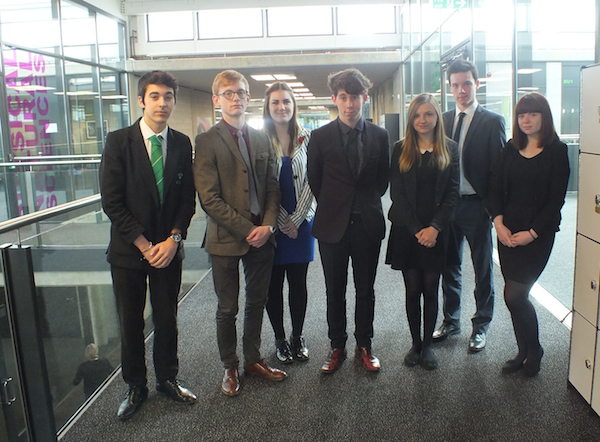 Our new Head Boy and Girl were officially welcomed to their new roles this week.
Year 12 students Joe Folan and April Atkin were named this year's Head Boy and Head Girl following a tough interview process with staff and members of our student Senate.
They will be assisted in their duties by new Deputy Head Boy Kristien Warren and Deputy Head Girl Molly Owens.
On Tuesday a special event was held at the Academy to welcome the new team and to thank last year's Head Boy Josh Cresswell and Head Girl Megan Hogg for their hard work.
Head of Sixth Form Samantha Anderson said: "We are incredibly fortunate to have such a strong team to promote the Academy and to work with us over the next 12 months.
"It was a very impressive field and we are looking forward to developing ways of involving some of our other strong candidates in the life of the Academy."
Head Girl April said: "I was very surprised to become Head Girl. It will be great to get to know the students in the younger years and to find out what they are doing."
Head Boy Joe said: "I'm really excited to have this role.
"The selection process was tough but I think it needed to be because there were so many good candidates."
Deputy Head Girl Molly said: "Becoming Deputy Head Girl has given me a lot more confidence in myself. I'm really looking forward to representing the Academy and helping out at school."
Deputy Head Boy Kristien added: "It was a tough selection process to become Deputy Head Boy. I'm looking forward to taking on the responsibilities of my new role."
Year 11 student Ricardo Rodrigues is a member of the Senate which helped to selected the new Head Boy and Girl and Deputy Head Boy.
He said: "They were tough decisions to make but I'm happy with our choices. I think we made the right ones."
During the event on Tuesday Josh and Megan offered advice to Joe and April and Principal John Henrys spoke about the key importance of the role of these students and their contribution to developing aspirations within the Academy for all our students.
(Pictured are Senate member Ricardo Rodrigues, last year's Head Boy Joshua Cresswell, Deputy Head Girl Molly Owens, Head Boy Joe Folan, Head Girl April Atkin, Deputy Head Boy Kristien Warren and last year's Head Girl Megan Hogg)