Magical world of Hogwarts comes to life at CBA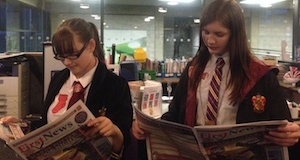 Our Library staff used their magic to transform our Academy into Hogwarts for the inaugural Harry Potter Book Night.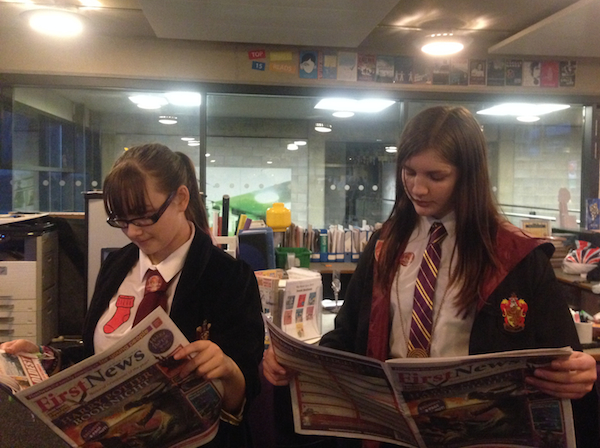 Our Library staff used their magic to transform our Academy into Hogwarts for the inaugural Harry Potter Book Night.
About 60 students from CBA, Brooke Weston and Corby Technical School, including Harry Potter, Hermione Granger and Draco Malfoy, entered the magical world through our Library doors that had been dressed to look like Platform 9 ¾.
Once inside they had to take a test to prove they were not Muggles before they could take part in a series of competitive tasks, including Care of Magical Creatures, Transfiguration and Potions Class.
Librarian Amy McKay said: "This was by far one of the best events we have ever done. It was amazing.
"The event was organized by our Assistant Librarian Christina Mangin and she did a fantastic job. The level of detail was incredible and she made it a very special event.
"Harry Potter Book Night has brought the books to life for a new generation.
"Our event celebrated our students who are fans and encouraged students to engage with the Harry Potter stories.
"It was wonderful to see staff and students from all three schools having fun together."
The night was so popular that students had to apply for tickets because places were limited.
Before the night lucky CBA students were presented with tickets for the Hogwarts Express and students from our sister schools received an Owl Letter telling them they had been accepted into Hogwarts.
When the students arrived they were split into the Hogwarts houses and took part in a series of competitions.
During the Care of Magical Creatures session the students were challenged to find Hagrid's missing creatures which were hidden around the Library and then work out a hidden quotation from one of the books.
During the Transfiguration task they had to decipher blurred pictures.
In the Potions Class each house had to choose six ingredients, such as Griffin Claw, Bats' Eyes and Unicorn Blood, to make up a potion. They had to come up with a name for their potion and could win extra points if one of their team was brave enough to try it.
The night also featured a Great Feast during which students sampled a variety of treats, including Cauldron Cakes, Butterbeer, Herbology Bites and Harry Potter inspired sweets.
The winning students were from the Ravenclaw house and they received Bertie Bott's Every Flavour Beans as a prize.
There were also prizes for the Best Wizard and Best Fancy Dress and students were presented with copies of the First News newpapers, wanted posters and identity cards.
Our party was one of 10,000 events which were held across the world to celebrate the inaugural Harry Potter Night organized by Bloomsbury Children's Books on February 5th.
Miss McKay added: "We will definitely hold the event again.
"It was such a success that we have already begun planning the next one."
To see pictures from the event click here
(Pictured above are Chloe Earl and Abby Moynagh reading copies of First News)