Sixth Formers win award at Young Enterprise county final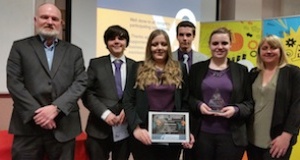 Our Sixth Formers have won a top award at the county final of the Young Enterprise competition.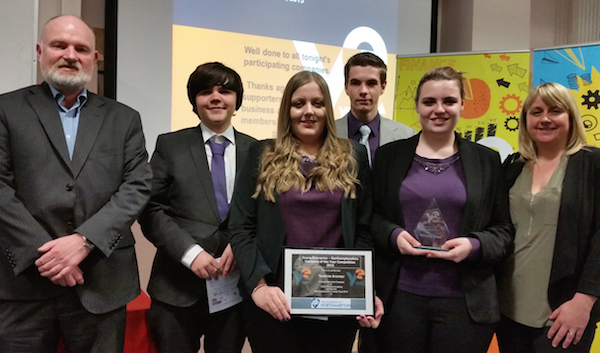 Our Sixth Formers have won a top award at the county final of the Young Enterprise competition.
Our Young Enterprise company Tea Time Aromas won the award for Best Marketing at the final which was held at the University of Northampton last night.
The prestigious accolade is the sixth award for the company of Year 12 students who created a sophisticated line of reed diffusers.
Tea Time Aromas Secretary Jess Sawford, 16, said: "We were really pleased to win the award.
"The judges were very impressed with our trade stand and we performed very well in the interview section of the competition.
"They thought our branding was consistently good and were complimentary about our report which outlined our use of social media, promotional offers and seasonal products.
"They also liked that we had put our logo on our carrier bags to create awareness about our products."
Jess added she and the rest of the company had gained great experience from taking part in the Young Enterprise initiative.
She said: "We've all grown in confidence throughout this experience and we've developed our communication and teamwork skills.
"Personally I've also found that taking part in the Young Enterprise scheme alongside my other studies has helped me improve my time management skills.
"In the future I would like to open my own counselling service and I know others in our group are interested in going into management roles and I think this experience will help us all with our goals."
CBA Young Enterprise Link Teacher Alex Allan said: "We are incredibly proud of our students for doing so fantastically well.
"All the awards they have won are testament to the months of hard work they have put into producing, marketing and selling their products.
"We would also like to say congratulations to Fusion from our sister school, the Brooke Weston Academy, which won the Most Innovative award."
During the final our students also had to give a presentation about their products in front of about 150 people.
(Tea Time Aromas members Daniel O'Connor, Jess Sawford, James Shannon and Beth McQuillan are pictured above with their Best Marketing trophy and their business advisors Shaun Coleman and Clare McGhee)