Spanish linguist is through to Spelling Bee National Final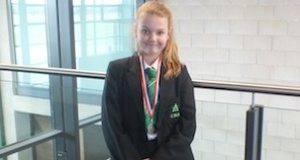 One of our enthusiastic linguists has made it through to the National Final of the Foreign Language Spelling Bee.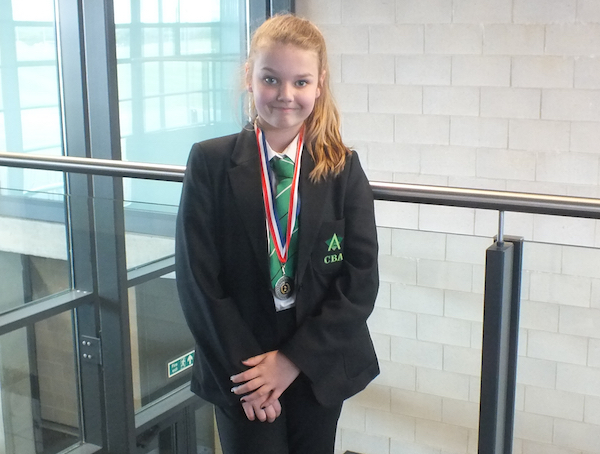 One of our enthusiastic linguists has made it through to the National Final of the Foreign Language Spelling Bee.
Spanish student Karolina Kontor earned her place after she came second in the regional final of the contest that was held at our Academy last week.
The event was a huge success for the Brooke Weston Trust as the other three students who made it through to the Spanish National Final from the regional heat are all from our sister school, Brooke Weston.
Year 7 student Karolina, who was only one word away from the top spot, said: "I had never taken part in a competition like this before and I was very excited and nervous.
"I'm so happy to have got through to the National Final and will work hard in Session 4 to get ready for it."
During the regional event nearly 100 Year 7 students from more than 40 schools were tested on their knowledge of French, Spanish or German.
The students were given one minute to spell out as many words in their chosen foreign language as they could.
The word was read out to them in English then the student had to spell the word in the foreign language, including any accents.
CBA Director of Modern Foreign Languages Karen Turney said: "This is the first time one of our students has made it through to the National Final.
"It's particularly exciting because Karolina is from our first Key Stage 3 Spanish cohort.
"I would like to congratulate all our entrants. They all worked very hard during Session 4 to get ready for the competition with Spanish teacher Ana Martinez Ribeiro and our Spanish Assistant Claudia Tapia Villa.
"I would like to thank everyone at CBA and Brooke Weston who supported the event."
CBA Principal John Henrys also congratulated Karolina.
He said: "CBA has hosted the Routes Into Languages Spelling Bee regional final for the last four years. The skills that the students display never fails to amaze me and this year I am particularly proud of our student Karolina who has secured a second place in the regional final."
CBA Governor Ian Hill was one of the French judges at this year's regional event.
He said: " This year's Spelling Bee was the best yet, with increased numbers for French, German and Spanish and a CBA student placing second in the Spanish Final.
"Congratulations to Mrs Turney, Miss Martinez and their team of helpers, including teachers from languages and other CBA departments and other local schools, who ensured that everything ran smoothly.
"The enthusiasm of the contestants and their speed in saying and spelling out foreign words are quite amazing and leave adults shaking their heads in admiration. I have really enjoyed my four years as a judge."
Miss Martinez added: "All of our students performed very well and we are proud of them all.
"I hope their efforts and success will inspire other students."
Our other competitors were Khiarat Ahmed, Dominika Raszpla and Sophie Saunders.
The prestigious competition is organized by Routes Into Languages East which is based at Anglia Ruskin University in Cambridgeshire.
The national final will be held in Cambridge on July 3rd.
(Pictured above is Year 7 student Karolina Kontor with her Spelling Bee medal. Pictured below are our Spelling Bee entrants Dominika Raszpla, Sophie Saunders, Khairat Ahmed and Karolina Kontor)