Bestselling author David Baldacci meets our students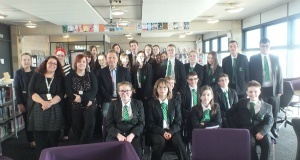 One of the biggest names in the world of writing took time out of his busy schedule to spend an inspiring afternoon with our students.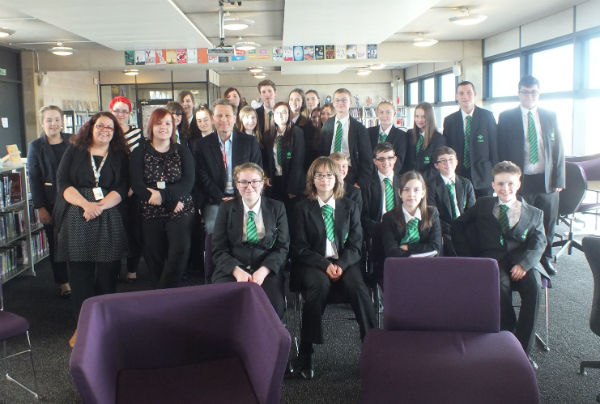 One of the biggest names in the world of writing took time out of his busy schedule to spend an inspiring afternoon with our students.
American author David Baldacci has published more than 30 international bestsellers and several of his books have been adapted for film and television.
Corby Business Academy is the only school Mr Baldacci will visit during his current tour of the UK which is primarily aimed at his adult readership.
During his visit to CBA yesterday he talked about his love of reading, his efforts to become a published writer, his thrillers and mysteries for adult readers and his fantasy books for young adults: The Finisher and his latest book The Keeper which came out last week.
He said: "I wanted to be a writer from about the age of seven or eight.
"I started off in a library – I wouldn't be a writer today if I hadn't been a voracious reader as a kid.
"If you want to be a writer don't read self-help books, read the great masters like C S Lewis and Tolkien.
"I started writing books because I love to read and I wanted to create the experiences that other writers were giving me for other people.
"The idea of putting thoughts and ideas on a piece of paper was an epiphany for me.
"You will never be a master of writing. You learn a bit each day about what it takes to tell a story."
During the visit Mr Baldacci spent time with our older students and keen readers in the Library and then gave a talk to our Year 8 students and a group of students from Brooke Weston.
He talked to the students about why he decided to start writing books for young adults.
He said: "If you don't stretch yourself as a writer and try something different you wither on the vine.
"With most occupations you get better at what you do by doing it again and again.
"As a writer if you don't try different things you lose your spark and imagination and all you end up doing is typing – you write the same story with different names.
"Entering the world of fantasy in my books for young adults was liberating for me.
"People think it's easier to write for younger readers than adults. I tell people you write down to young people at your peril. What thrilled kids 10 years ago doesn't thrill kids today. When you write for kids you better bring your A game across the board otherwise they won't finish the book."
Mr Baldacci was also generous with his advice for aspiring young writers.
He said: "The old adage is write what you know. I would modify that to say write what you would like to know. You have got to have a passion for the story because it may take you a long time to write it.
"When I was at school, college and law school I would eavesdrop. I was always interested in people. If you want to be a writer at some point you will have to write dialogue which isn't as easy as you might think.
"Everyone is a dialogue expert because we do it all the time so if your dialogue is wooden a reader will pick up on it and stop reading."
At the end of his visit Mr Baldacci said he was pleased that he had visited CBA.
He said: "This is the only school I'm going to visit whilst I'm in England and I'm really glad that I've come here. I was impressed by the students' questions. They are curious and intelligent.
"I would like the students here to aim to do something that they have a passion for.
"Most people have a job that pays the bills but they aren't passionate about it. Take the time to find something you are passionate about and go for it. Passion is like lightning - it doesn't often strike twice. "
CBA Librarian Amy McKay said: "I'm excited and thrilled that we had a talk from one of the biggest names in writing.
"David's visit was a wonderful occasion and we were privileged to welcome him here."
To find out more about Mr Baldacci's books click here
To see more pictures from his visit click here
(David Baldacci is pictured in our Library with CBA Librarian Amy McKay, Assistant Librarian Christina Mangin and a group of our keen readers)