Author Charlie Higson inspires students during visit to CBA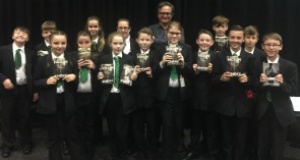 One of the UK's most popular writers captivated hundreds of our students during a visit to CBA.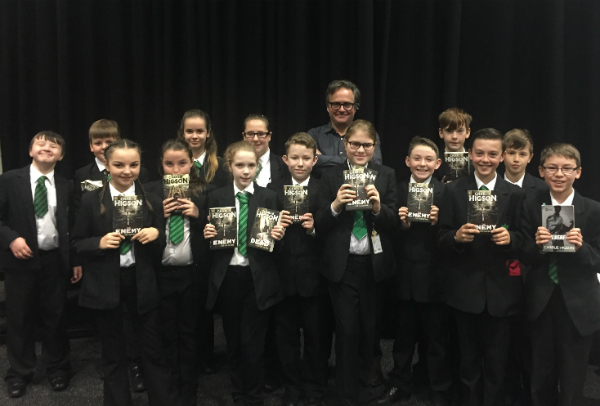 One of the UK's most popular writers captivated hundreds of our students during a visit to CBA.
Author Charlie Higson is well known for his Young Bond series and his bestselling zombie adventure series for teenagers called The Enemy.
The BAFTA award winner is a successful actor, comedian and producer who has worked on many television and radio shows including The Fast Show, the Harry Enfield Television Programme, The Smell of Reeves and Mortimer, Shooting Stars and the new ITV Jekyll and Hyde series.
He visited our Academy on Friday to promote the final book in The Enemy series, which is called The End.
CBA Librarian Amy McKay said: "Charlie gave an excellent talk. It was brilliant to have such a huge name at our Academy. Charlie only does one week of visits a year, so we were honoured to be one of the few schools who will see him."
During his talk he spoke about writing, his love of reading and elements of the supernatural genre.
Mr Higson was also interviewed by students Josh Gilding, Jack Scott and Jack Ennis who quizzed him on a range of topics, including the new James Bond film and why he wanted to become a writer from a young age.
Mr Higson was asked whether he had been tempted to go for a post-watershed slot for his new Jekyll and Hyde series - which has come in for criticism over its tea-time slot - and make it even darker.
He said: "I wanted to do a big, exciting show that all the family could watch together so there's a lot of action, adventure, fantasy and quite a lot of comedy in it and it's scary because it's Jekyll and Hyde but in my experience kids like scary things.
"We designed it to be similar to something like Doctor Who and some people thought it was too scary to be on early in the evening but that's kind of for them to work out for themselves I think."
Mr Higson said if ITV want to make a second series of Jekyll and Hyde that would keep him busy for another year.
He added he has new ideas for books, is just finishing making The Further Adventures of Professor Branestawm, starring Harry Hill, for the BBC for this Christmas and he hopes to do some more comedy with Paul Whitehouse.
Before he left Mr Higson spent time signing copies of his books for the students.
(Pictured above is a group of our students with Mr Higson and below Mr Higson signs a copy of one of his books for Year 8 student Daniel Bailey-Thompson)