Harry Potter illustrator shares his secrets with students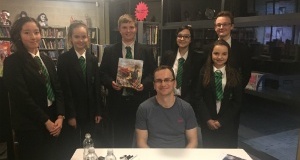 The award-winning artist who created the new Harry Potter illustrated book has visited our Academy.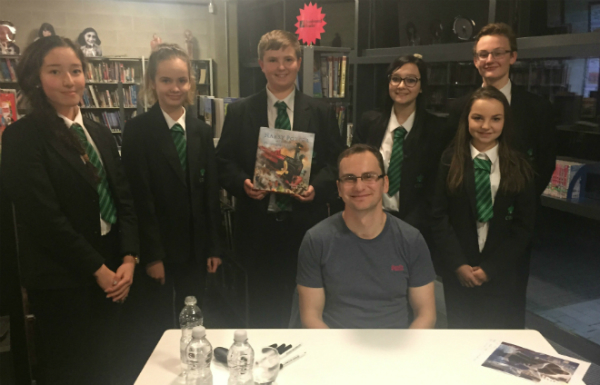 The award-winning artist who created the new Harry Potter illustrated book has visited our Academy.
Illustrator Jim Kay talked about his work on Harry Potter and the Philosopher's Stone: Illustrated Edition and the exciting moment he got the call to say J K Rowling wanted him to create the book.
He also spoke to the students about his involvement in hit televisions shows, including the BBC's Jonathan Strange and Mr Norrell series, and being on the set of A Monster Calls with Liam Neeson.
CBA Librarian Amy McKay said: "Jim talked about his career and working on A Monster Calls for which he won the Kate Greenaway Medal.
"The film of A Monster Calls comes out next year and he did the concept art for the movie and was on set with Liam Neeson.
"Jim also talked about the television shows he has worked on and about creating displays for the V&A Museum in London.
"He told us about the moment his agent rang and asked him if he was sitting down because J K Rowling wanted him to do an illustrated Harry Potter book.
"He also let us into secrets such as his plans to feature his dog in all the books and that he had based his illustration of Harry Potter's friend Hermione on his niece.
"Our students asked him fantastic questions and he talked to them about his work ethic and how he works through the night to complete projects.
"As a business academy it's great to have speakers who can talk to the students about the importance of having a work ethic. Not every career is 9 to 5 and if you want to be successful you have to be prepared to work hard.
"He showed students who are interested in art that there are amazing careers out there for them."
Mr Kay, of Kettering, also shared his tips about the techniques he uses to create certain effects.
Before he left he signed about 100 books of pieces of artwork for the students and even stayed behind after they had gone home to make sure everyone got something.
Miss McKay added: "We are so grateful that Jim came to see us. We can't thank him enough."
More than 70 students from CBA, Corby Technical School, Kettering Science Academy and Brooke Weston Academy attended the visit yesterday.
(Pictured above is Jim Kay with a group of our students, below, Jim is pictured with Adam Short who inspired the drawing of Harry Potter's cousin Dudley Dursley and, at the bottom, Jim is pictured signing a book for Holly Adamson)