Musicians are praised at major festival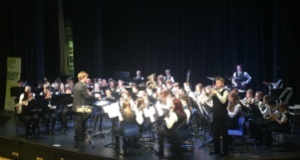 Judges praised our brilliant musicians at the world's largest youth music festival.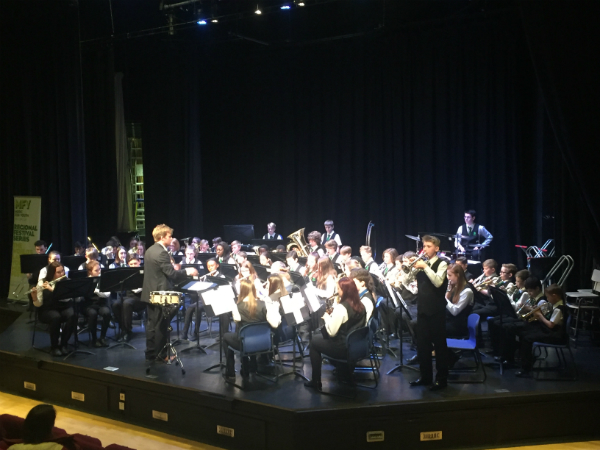 Judges praised our brilliant musicians at the world's largest youth music festival.
About 70 of our musicians competed at Music For Youth's Regional Festival in Northampton on Saturday.
The festival included performances by our Big Band and our new Combined Band that we created especially for the festival from our Senior and Junior Concert Bands and some of our Year 7 brass musicians.
CBA Director of Music Clive Wears said: "The students performed very well and the judges' comments were very positive.
"It was a valuable experience for our younger musicians to have the chance to play with our older musicians and it was great for our older students to be able to act as role models for the younger ones."
CBA Music Teacher Lucy Wass leads the Big Band.
She said: "The Big Band played brilliantly. The musicians have really progressed in the past year and are making a great sound – something the judges commented on.
"A particular mention should go to the rhythm section – drummer Ben Wheatcroft, bass player Shona Duncan and pianist Rebecca Loveday who played so well together and provided a sound foundation for the band."
Year 11 student Joseph Coy played the drums in our Combined Band and the tenor saxophone in our Big Band and was singled out for praise by the judges.
He said: "The performances went really well and I think our younger students coped very well.
"I always get nervous – especially as a percussionist because I'm always the first one on stage setting up the instruments – but you just have to ignore the nerves and get on with the performance."
Our Big Band performed Valerie, One Step Beyond and Sway and the Combined Band performed Bolero and Buster Strikes Back which featured a cornet solo by Louie Anderson that attracted special praise from the judges.
In their comments the judges said they loved the quirky, jaunty style of the Combined Band's Buster Strikes Back performance and praised the performance of Bolero.
They also said the Big Band's performance of Sway had a "great feel" and thought the pace of its performance of One Step Beyond was terrific.
The results of the contest will be announced next month.
The best performers will go on to perform at Music For Youth's National Festival in Birmingham in July.
(Our Combined Band is pictured above performing at the regional festival)