Happy Hands receives two accolades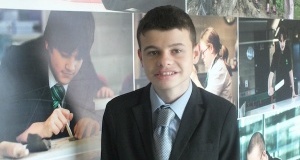 The Happy Hands Young Enterprise company has picked up two top accolades.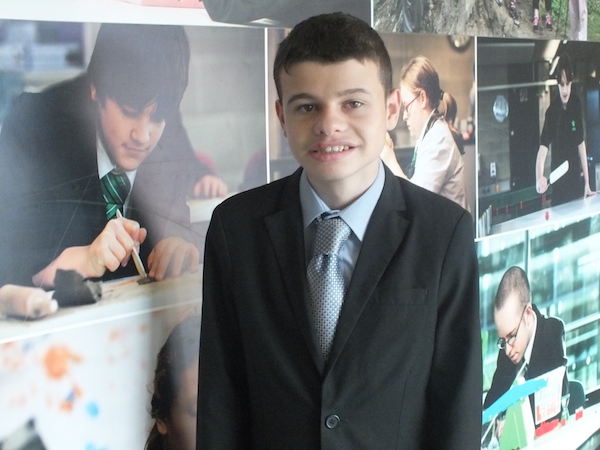 The Happy Hands Young Enterprise company has picked up two top accolades.
Young Enterprise has awarded our company second prize in its national Best Trade Stand competition and Happy Hands Events Director Ronan Kelly, 16, has won the regional final of the Sir John Moore award.
Ronan (pictured above) will receive a certificate and £100 at the regional awards ceremony at Loughborough University on June 28th and will find out whether he has been shortlisted for the national award.
CBA Associate Principal Janet Duggan said: "The Academy is exceptionally proud of Ronan's achievement which reflects his resilience and confidence when interacting with the public when taking part in Happy Hands enterprise events."
CBA Teacher Nikki Clark, who works closely with the Unit students involved in Happy Hands, was also thrilled for Ronan and the team as a whole.
She said: "We are very pleased for Ronan and that Happy Hands came second in the national competition.
"We have taken part in the Young Enterprise programme for the past three years and our students are very familiar with it now and with the products Happy Hands offers.
"They have taken part in lots of trade fairs, including fairs with teams from mainstream schools, and they have learned what they need to do to be successful.
"They have also developed their understanding of how to display products through working at Wren Spinney Community Special School's The Studio where a number of Happy Hands' products have been on sale."
Happy Hands sells a wide range of handmade products including chalkboards, teacup pincushions, teacup candles and shopping bags.
Happy Hands is also currently preparing its presentation for Young Enterprise's Best Presentation competition.
(An example of a Happy Hands trade stand is pictured below)