A Level Results Day 2016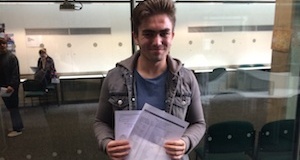 Corby Business Academy is celebrating another outstanding A Level Results Day.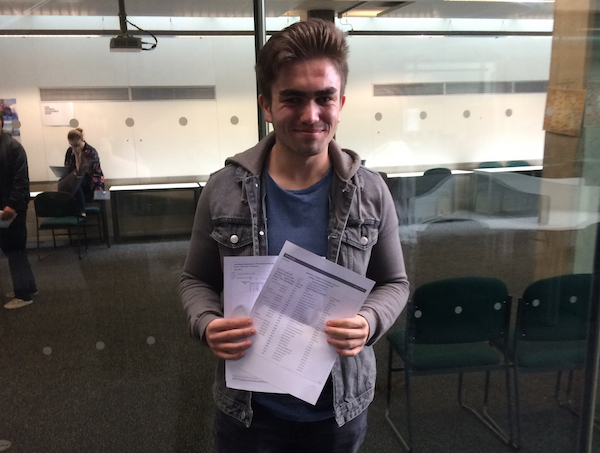 Corby Business Academy is celebrating another outstanding A Level Results Day.
Last year the school enjoyed one of its best ever A Level Results Days and this year it has gone on to achieve a 25 per cent increase in its A Level success rate and a rise in the number of students achieving the highest grades.
The figures reveal an improvement in grades across all subjects with particularly good results in A Level Chemistry, Physics, Mathematics, English and Media and Level 3 vocational qualifications in Business, Sport and Dance.
CBA Associate Principal Janet Duggan said: "Our success rate has improved and a number of our students have received A* grades in their subjects.
"These results are evidence of our high quality teaching and the ever increasing aspirations and ambitions of our students and their commitment to their studies. Our students are now able to take their next steps to higher education or the workplace.
"Yet again we have seen great results in our vocational subjects, including Business, Travel and Tourism, Health and Social Care, Dance and Sport.
"Our success in Business is particularly pleasing as we have strong links with the local business community.
"I am very proud of all our students and I am delighted for all those concerned."
Harrison Tomkins received As in Physics and Chemistry and a B in Mathematics.
He will study Physics with Astrophysics at York University once he has finished a voluntary teaching placement in Honduras.
He said: "I'm feeling very relieved. The past two years have been very hard work but we have made it.
"I think my grades are the result of consistent hard work – you cannot cram for your A Levels."
Ben Warner, who was highly commended in the national Student of the Year Awards last year, received A*s in English Literature and Mathematics and an A in Further Mathematics and will go on to study English at Exeter University.
Ben, pictured above, said: "I can't believe it. I would put my success down to my teachers and hard work."
Alex Lawless will study English and French at the University of Nottingham after achieving an A* in English Literature, a B in History and a C in French.
She said: "I am so happy. I am excited about going to university and I'm thinking about taking up a career in journalism abroad."
Lucy Hall received an A in Chemistry and Bs in Mathematics and Physics.
She said: "I couldn't have worked any harder on my A Levels. I'm really pleased with my results and will go on to study Chemistry at the University of York."
April Atkin, who received an A in Media, a B in Psychology and a C in Geography, said: "I'm very happy and intend to go to the University of Leicester to study Geography."
Daniel O'Connor received a Distinction* in Business and Bs in Media and Psychology.
He said: "My results are even better than I expected and mean that I can study Film Studies at the University of Leicester."
Samuel Thompson received an A in Mathematics and Cs in Further Mathematics, Chemistry and Physics.
He said: "I'm incredibly happy. I will study Mathematics at Nottingham Trent University and I hope to go on to become a Mathematics teacher because I am passionate about the subject."
Georgina Reay will study Forensic Computing at the University of the West of England in Bristol after passing her A Levels.
She said: "I am so excited about getting into my chosen university."
Charlotte Green received a Distinction* in Business and Cs in Art and Media.
She said: "I was very happy to find out I had passed everything. I'm now really looking forward to studying Media Production at De Montfort University in Leicester."
Erin Anderson earned Distinction *s in Sport and Performing Arts Dance and Bs in English Literature and Applied Business.
She said: "I'm very pleased. I will start a Performing Arts Musical Theatre course at Northampton College soon and hope to go to the London Stage School the following year. My ambition is to work in the West End."
Amy Moore's grades included a B in History and a C in English Literature and she will go on to study History at the University of Derby.
She said: "Once I've finished university I would like to work in a museum for a while before becoming a history teacher."
Rachel Eadie earned Distinction *s in Business and Health and Social Care and a C in Media.
She said: "I did even better than I expected. I am already working as I have started a Marketing apprenticeship with RS Components."
Josh Champion will study Politics at Sheffield University after receiving great grades including an A in Mathematics and a B in English Literature.
He said: "I've always been interested in Politics so I think I will enjoy studying it. At the moment I'm considering political journalism as a career."
To see more pictures from A Level Results Day click here