CBA Open Evening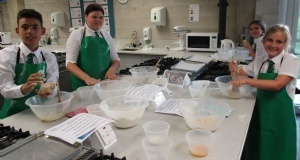 Corby Business Academy held a new revised Open Evening.
Corby Business Academy held a new revised Open Evening.
Receiving a map on arrival, families were free to look around the building, facilities and activities that the staff and students had organised.
Mrs Alice Beckwith, Senior Assistant Principal said 'We responded to the parents that had spoken to us in previous years and said they felt the evening was a bit flat. We used to hold a presentation and show them around an empty building.
'The idea for this year was to get the children involved and engaged in what they saw. For instance, in the Science department they held an event called 'Whizz bang, pop' and did lots of experiments such as dissecting an animal's lung. There were drama workshops, pottery demonstrations, baking, garment making, open music rehearsals and the Media department photo shopped pictures.'
The evening saw three separate presentations held by Mrs Beckwith and Associate Principal Mrs Janet Duggan. Parents were able to choose which they attended and were free to explore places of interest and speak with subject leaders.
At the end of the week tours were held twice a day in the morning and afternoon to show families how the Academy functions during the academic day. Over the course of the two events, the Academy welcomed over 1,000 visitors.
Mrs Beckwith said 'The feedback since the event has been very positive and we feel the Open Evening was a great success. We are now looking forward to welcoming students to our Academy in September next year.'