CBA Upcoming Music Events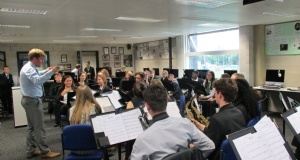 This academic year Corby Business Academy will be taking part in a variety of musical events.
This academic year Corby Business Academy will be taking part in a variety of musical events.
The first event will see three of CBA's students, Louie Anderson, Evie Anderson and Joshua Gilding perform at the Royal Albert Hall in London on Wednesday 16th November 2016 as part of Youth Brass 2K. CBA Director of Music, Mr Clive Wears will be taking 30 students to watch the Music For Youth Proms performance.
He said, 'We are looking forward to attending such a prestigious event and seeing lots of musical talent. I hope the students will aspire to perform at the venue one day.'
The second event of the year CBA will be taking part in is the National Concert Band Festival. The Academy's Senior Concert Band, Junior Concert Band and Big band will perform in the regional piece held at Nottingham High School for Girls on Sunday 27th November 2016. The festival holds five regional events throughout the British Isles. Each regional winner will then go through to the National Finals which will take place in April 2017.
Mr Wears said, 'Last year our Senior Concert Band qualified for the finals so we are really looking forward to seeing how far our Academy's bands can progress this year.'
The third event of the year is the Academy's Christmas Concert featuring all the CBA Musical Groups. The performance will take place in the Academy's Theatre and will start at 7pm on 14th December 2016. Tickets are free and will be available from Student Reception on 1st December 2016.
The final trip planned for this academic year is a music tour of Holland. There are 40 spaces available for any students with an interest in music across all year groups. The trip takes place from Wednesday 12th July – Sunday 16th July 2017.
Mr Wears said, 'Once we establish the number of students and likely mix of instruments we will organise a musical programme. We hope to take a Rock Band, Vocal Group, Concert Band and Big Band. Even if you have an interest in music technology this would be useful to assist with setting up PA's and mixing desks to enable recordings to take place.'
The students will then take part in three concerts, go sightseeing in Amsterdam and The Hague and take a trip to a theme park. Spaces are still available so please click here for more information.