Opera Trip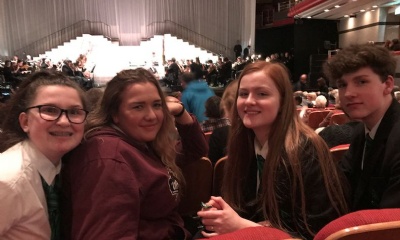 A group of students recently travelled to Birmingham to watch one of the first performances of the Opera, Sukanya, at the Symphony Hall.
Ravi Shankar wrote the opera before he died and it has only recently been discovered. It is a fusion between Indian classical music and western classical music, using an orchestra with sitars and tablas.
Music Teacher Lucy Wass said 'This was a great experience for the students to see an example of a fusion live. Students study 'fusions' as part of the A level music course and look at several pieces by Anushka Shankar, Ravi Shankars daughter. Some of our talented year 9 and 11 students, who are potential future A level music candidates, also attended the trip to get an idea of the course and topics they would study.
'The trip was a great success and the students really enjoyed the signing, dancing and Indian costumes of the opera.'