CBA qualify for NMFY Finals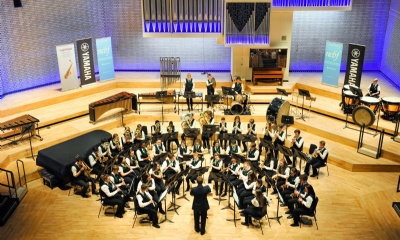 Corby Business Academy's Senior Concert Band qualify for the National Music for Youth Finals.
The band has been selected to perform at the finals by the judges of the regional competition, held at Northampton School for Girls in April. The group will perform, alongside a very select few of the country's top musicians, at the Birmingham Symphony Hall in July.
The festival provides students with a platform to share music and received advice from top music mentors. The band will perform a 12-minute piece including songs such as Star Wars, Buster Strikes Back and Earth Dance. Year 11 student Louie Anderson will also have a solo part playing the Cornet.
Year 10 student Ewan Mcphie said 'I am looking forward to the finals as it will be the largest concert I have taken part in. I am very proud to be a part of the Concert Band and have experienced some amazing opportunities through it. I developed a passion for music through my Grandad who was in the army. This encouraged me to join army cadets, where I playing the flute. Once I started CBA I began to play the proper concert flute and have been pushed to do my very best ever since. Mr Wears has helped me so much and given me opportunities I otherwise wouldn't have had. I now want to study music at A-level or get an apprenticeship making flutes, as this is my dream.'
Director of Music Mr Clive Wears said 'We are very proud to be performing in a such a prestigious national music festival. Our concert band was formed with a small number of students in 2008 when the Academy opened. Since then it has steadily grown in strength and numbers and now boasts over 50 students from all year groups. The Senior Concert Band has had considerable local success since then and has won the Oundle Festival for three years in a row. We are delighted to be invited back to the NMFY finals for the second time.
'The students dedication and weekly rehearsals are an integral part of the development of the band and this has enabled them to perform at a range of exciting events including performances abroad during tours of Holland, Germany and Belgium.'