CBA Race for Life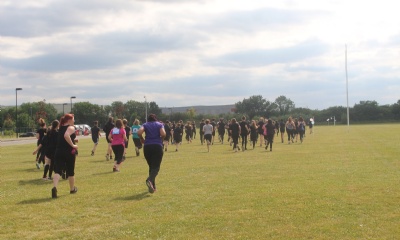 As part of national sports week, the PE department organised a range of events for students and staff to take part in including a 5k Race for Life in honour of Cancer Research UK.
Over 100 staff and students took part in the event on the field after school and managed to raise approximately £200 for Cancer Research UK. Year 10 student, Louise Bilby even managed to raise £60 single-handedly.
Each entrant received a medal and staff and students wrote bubble messages to loved ones who have been affected by cancer, which were displaced in the central area.

The results of the fastest times were as follows:
Joseph Glenn (Year 10) - 24 mins 27 secs
Joseph McGurn (Year 10) - 27 mins 06 secs)
Mrs Beckwith (Staff) - 28 mins 32 secs
Sophie Layton Matthews - (Year 9) - 29 mins 17 secs
Director of PE Miss Amy Harris said 'It was fantastic to see the amount of staff and students that took part in the race. This was the first year we have organised the event and it received a great turn out. All the staff and students ran for people that have been affected by cancer and it was wonderful to see everyone come together to help support a great cause.
'Due to the success of this year, we are going to host the event again next year and will hopefully increase the amount of people participating and the money raised.
'Thank you to everyone who has donated money.'