Aspirational visit from rapper J-Sol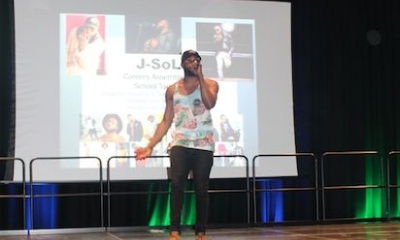 This week, upcoming singer J-Sol visited Corby Business Academy.
The rapper, who has performed alongside artists such as Little Mix at the Olympic Stadium, visited Year 9 and 10 students to talk about Bullying, Careers and Aspiration.
J-Sol discussed the importance of education and working hard at school, why it's important to think about your future now and the options students have after school.
He spoke about the decisions he made in life and how they have benefitted him now and empowered students to make right choice in regards to bullying and guided them in how best to respond to bullying.
Students also took part in a question and answer session and were lucky enough to have the chance to watch the solo artist perform a couple of his songs.
The visit was part of the charity 'Life Skills Education' programme that aims to develop and deliver drug and life skills messages to young people aged 9-16.