Our students celebrate another year of successful A Levels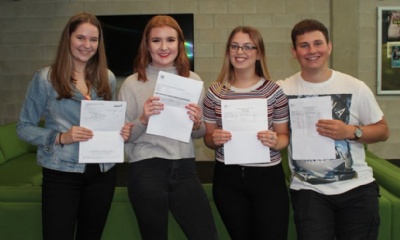 Staff and students at Corby Business Academy are celebrating another successful year of A Level results.
The overall A level pass rate (grades A* to E) was 100%, with 30.3% of students achieving 3+ A*-C grades.
Art and further mathematics were subjects that particularly stood out this year with 100% of the students achieving A*- B grades. Students also achieved 100% A-C grades in biology, English, geography, music and psychology.
Amongst the top achieving A level students are Darrah Kirkpatrick and Benjamin Campbell.
In addition, a number of students did well in their vocational courses including Eryn-Lee Church, who along with her Distinction* in performing arts achieved an A grade in psychology, and B grade in English Literature A levels. She will go on to study English and education at the University of Northampton. She said 'I am really pleased with my results and am glad that I have achieved the grades I needed to study at the university I wanted.'
Year 12 students have also completed their first year of their A level courses showing strong foundations for their final A-level year. Zoe Hall and Head Girl Evie Berry are the top achievers. Zoe achieved 5 A grades in chemistry, physics, extended project, further mathematics and mathematics whilst Evie achieved A grades in her extended project and biology and B grades in chemistry and psychology.
Associate Principal Janina Taylor said 'We are proud of all our students here at Corby Business Academy; they have worked exceptionally hard and their efforts have been reflected both in their personal achievements and in the increase in results for the academy as a whole. It is a privilege to share this moment with the students, to see the culmination of their hard work and watch them embrace their futures.'
We wish all our students the best of luck as they move into their futures, continue to work hard and follow their dreams showing they are #notafraidtofly!