Transition Reading Challenge Finale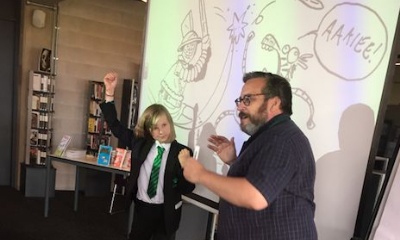 Award winning author Gary Northfield visited our Academy to mark the end of our Transition Reading Challenge.
He spoke to new Year 7 students about his career, what he read growing up and told them all about his latest book 'Julius Zebra', which students were challenged to read and complete an activity sheet on over the summer. Gary then signed the student's books and even taught them how to draw a zebra.
CBA Librarian Amy McKay said: "The students really engaged with the reading challenge this year. We chose a book that we thought would appeal to them all. It's full of humour and is accessible to students with different interests and reading abilities. The book also features brilliant illustrations, includes elements of history and ties in with popular reading trends.
'The book we chose was the first in the series and we were amazed to see students bringing in the second and third book for signing. It's nice that they clearly engaged and enjoyed reading the book.'