Award Winning author visits CBA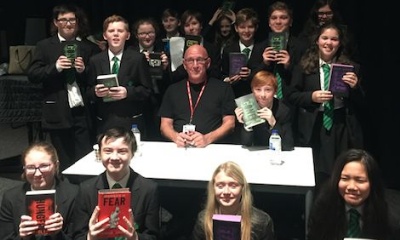 Michael Grant Award winning American author and writer of the worldwide best selling dystopian fantasy series 'Gone' spoke to Year 8 students at CBA.
Michael, who has produced a number of books, spoke to over 350 students from a range of schools about his career as an author. He told them all about his latest book 'Monster' which he is currently promoting as part of a two-week tour of the UK. The book carries on from his series 'Gone' and follows the story of teenagers who morph into superheroes and super monsters. The Students were able to ask him question and get their books signed.
CBA Librarian Amy McKay said 'Michael's talk was amazing; he was so inspiring and made the session really interactive.
'Michael is from America and therefore does not attend many author visits so we are incredibly luck. He has a interest in comics and superheroes which made him really relatable to the children.'