The Big First Aid Lesson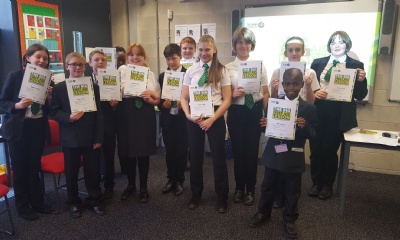 Today, Key Stage 3 students from the Unit Provision took part in the nations biggest first aid lesson along with thousands of other students from schools across the country.
The live session was organised by St John's Ambulance and presented by Reece Buttery, a long-standing cast member of the popular CBBC shows 'The Dumping Ground' and 'The Secret Life of Boys'. Throughout the lesson the students learnt lifesaving skills such as what to do in an emergency, how to help someone choking and how to treat burns.
Teacher Caren Brown said 'I heard about the live lesson through Facebook and thought it would be a fun and engaging way for the students to learn about first aid. It also linked with bonfire night which was particular relevant in preparation for this weekend.
'I hope that the students will now feel more confident in dealing with situations that they may encounter. They have learnt skills that will enable them to protect themselves and help friends and family with basic first aid for burns and choking.'