Amy joins judging panel for Blue Peter Book Awards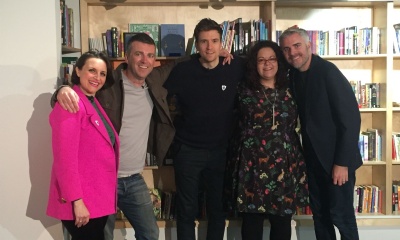 Our school librarian Amy McKay has joined the judging panel of the hugely popular and influential Blue Peter Book Awards, alongside radio 1 presenters Chris Smith and Greg James.
Amy and the rest of the judging panel, which also consisted of performance poet and author-illustrator Laura Dockrill and Blue Peter Editor Ewan Vinnivombe, had to read 24 books in advance. They then met over the weekend at Seven Stories, The National Centre for Children's Books, to discuss which books should be whittled down to the final six titles.
The chosen shortlist will be announced in the next few weeks and then it is up to the children to vote for their favourite, which will be announced live on the Blue Peter show on World Book Day (Thursday 1st March 2018).
Amy, SLA School Librarian of the Year 2016 said 'I would not have been chosen for the panel without the opportunities I have been given here at CBA. I want to thank the Academy for all their support; it fills me with great honour.
'It was a very nerve wracking and surreal experience. Although I have helped judge the Carnegie Book Awards, I am not used to having all the cameras filming me. It was a brilliant day and I even got a blue peter badge which I am very proud of and have been showing off to everyone in the Academy.'