Inspirational author visits CBA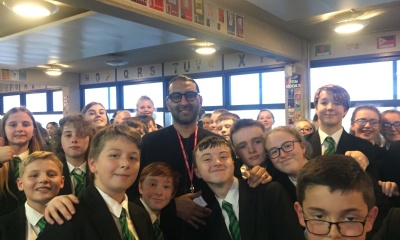 Irfan Master, author of, A Beautiful Lie came to visit students at Corby Business Academy.
Over 100 students from the Academy attended the speech, in which Irfan told students all about his latest book, Out of Heart. He spoke about his background and troubled past of being involved in gangs at school. He also shared how he felt initially embarrassed about reading but has since turned his life around and became an author.
After the talk, students were able to purchase Irfan's books and get them signed.
Head Librarian Amy McKay said 'The visit was brilliantly timed as it was only just announced on Monday that Irfan has been nominated for the Carnegie Awards due to his latest book.
'Through sharing his own story, Irfan showed the students that anyone from any background can become an author. It was a fantastic opportunity for the student who found him very relatable and incredibly inspirational.'