Students receive rugby training from Saints coaches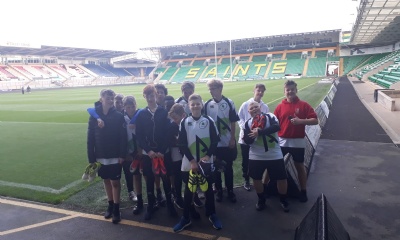 Corby Business Academy recently visited Franklin's Gardens, home to the Northampton Saints as part of a Trust rugby trip.
Students from secondary schools across the Brooke Weston Trust started the day by taking part in a training session led by the Saints coaches. The students were then treated to an exciting tour of the grounds in which they had the chance to see all the area usually off limits to the public, including the changing rooms and gym.
To end the day there was a tournament against the other Trust schools: Brooke Weston Academy, Corby Technology, Kettering Science Academy and Thomas Clarkson Academy. BWA were crowned overall champions.
CBA PE teacher, Mr Oliver Machon said 'the students played well throughout the day and were competitive against the other schools. Everyone had a great day.'
Students that attended are now in with a chance to become part of an elite team that will receive another training session from the coaches.