School of Rock rehearsals – Start Monday 20th November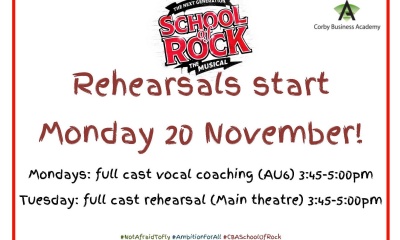 We are excited to announce that CBA's first school musical production will take place in March 2018.
We have now held our open auditions and selected the cast for this year.
Rehearsals start Monday 20th November and will continue as follows:
Monday: full cast vocal coaching (AU6) 3.45-5.00pm
Tuesday: full cast rehearsal (Main Theatre) 3.45-5.00pm
The production is one of a series of events taking place as we become torchbearers of the Brooke Weston Trust 'Ambition For All' campaign for the month of March.
If you would like more information, please speak to Miss Chapman, Miss Johnson, Miss Barrett or Miss Jensen.