Music recital success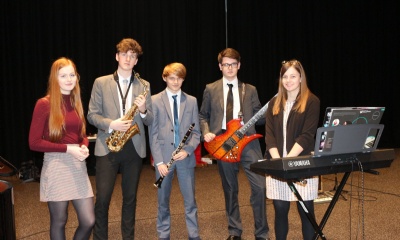 Over the past few weeks, parents and carers were invited to a series of informal recitals held at the Academy.
All students who receive instrumental lessons at CBA performed either a solo, duet or took part in a small ensemble. Performances included string, piano, brass, woodwind, saxophone, jazz and vocal. The recitals are used as way to help the students get used to performing in front a live audience, show off their talent and prepare them for the upcoming Christmas Concert.
To conclude the recitals there was an A-level music evening. As part of their course, the students have to submit recordings of their work and therefore performances were videoed on night. Students can now use this as part of their coursework or use it to analyse what went well and what can be improved.
Director of Music, Mr Clive Wears said 'The students have worked extremely hard over the course of this term in preparation for the recitals, so it was a tremendous occasion to celebrate some of their many achievement and showcase their talent.'