Enterprise Enrichment Day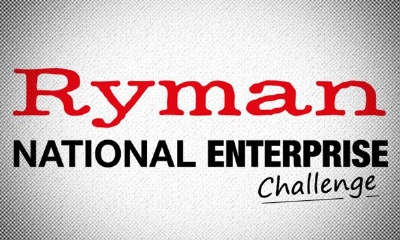 Year 9 and 10 students studying business recently took part in the National Enterprise Challenge. The students were tasked with designing a new product for Ryman's Back to School range.
The students had to create a campaign for the products, coming up with the name of the product, the slogan, logo and create a mascot. They then designed the window display, store display and poster for the product. Finally, they looked at marketing via social media and thought of ideas for a YouTube video advert.
Nine lucky groups impressed the judges and successful made it through to the next round, in which they had to pitch their ideas to the audience and judging panel. On the panel was a Ryman's and National Enterprise Challenge representative, Business Teacher Sharon Scullion, Librarian Amy McKay and Media Officer Fern Gibson.
The winning product was called 'Switch' a personalised pen that features different coloured inks, badges and characters as well as detachable items. The group will now go forward to the National Finals.
Sharon said 'You can see the students have grown in confidence throughout the day. Many of them were nervous about pitching but have done really well and developed their communication skills. They have come up with some brilliant idea, working together well as a team and should be very proud of themselves.'
Well done to the winning team, which consisted of Joe, Joshua, Thomas, Edward and Jack. We wish you all the best in the next round.