12 Reads of Christmas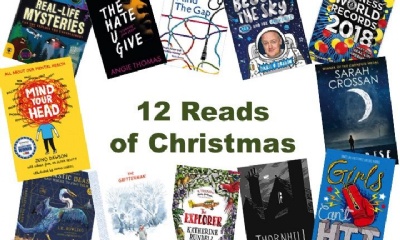 The library team have put together a list of popular books that are perfect to give as presents this Christmas.
12 Reads of Christmas
Stuck for stocking filler ideas? Worry no longer! Here's a list of 12 books that are guaranteed to please if found under the tree.
Young people who read for pleasure are statistically more likely to grow up to be better paid, healthier and happier as adults – so these really are gifts to last a lifetime.
Guinness World Records 2018 – an annual treat for any age. Perfect to dip into.
Illustrated Fantastic Beasts and Where to Find Them – a beautiful, illustrated edition that Harry Potter fans will love.
The Hate U Give by Angie Thomas – one of the most important books of 2018. A must read for older teens interested in injustice and contemporary stories.
Girls Can't Hit by T.S Easton – a fun and funny book that proves girls can, of course, do anything they put their minds to. T.S. will be visiting CBA in 2019, so this is a great chance for students to be prepared.
Moonrise by Sarah Crossan – one of CBA's favourite authors delights again with a verse novel about death row. This is a perfect book for those who enjoy a gritty story, without too many words.
Thornhill by Pam Spy – a creepy story about a vengeful, haunted house. Half the story is told entirely through illustration, so this is an excellent book for those who like enjoy art.
Mind the Gap by Phil Earle – a shorter book about male friendship and grief. Great for those who struggle with reading, but still want a full story.
The Explorer by Katherine Rundell – when a plane crashes into the Amazon Rainforest 4 children are stranded with no food, drink or hope of escape. Can they survive? An excellent adventure story for KS3 readers.
Real-Life Mysteries by Susan Martineau and Vickey Barker – full of illustrations and information about the world's biggest mysteries. A superb book for inquisitive minds.
Beyond the Sky: You and the Universe by Dara O'Briain – A fascinating book about science and space. Perfect for budding astromauts.
Gritterman by Orlando Weeks – A haunting and bittersweet story about an unsung hero. Written and illustrated by the former frontman of The Maccabees, this book is a future favourite for older readers who enjoy books with a musical element.
Mind Your Head by Juno Dawson – A frank, factual and funny book about teenage mental health. Full of illustrations and real-life stories, this is an excellent book that covers a multitude of issues.