Concert Band tours primary schools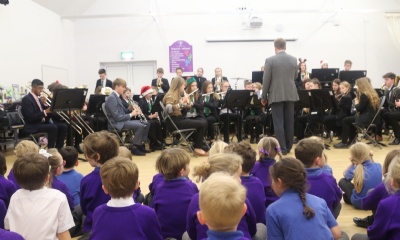 On Friday, our Concert Band completed a tour of Oakley Vale Primary School and Gretton Primary Academy.
The band held two concert at each school for Key Stage 1 and 2 students. They palyed well-known songs including Michael Jackson's 'Thriller', Ravel's 'Bolero' and 'Let it Go' from the Disney film Frozen. There were also some popular Chsitmas songs such as 'Rudolf the red nose reindeer' to put the children in the Christmas spirit and get them singing along.
Some of the students played demos and soloist performances on their instruments. This allowed the children to become more familiar with the types of sounds they can make.
Direct of Music, Mr Clive Wears said 'We take part in a tour of the primary schools every year as it is always a very popular event with the children. We try to make it really interactive so the children can get involved and have lots of fun but also learn about the different instruments.
'We also have a stong connection with the primary schools, which we want to continue building on. We feel it is important that the children become familiar with some of the staff and students at CBA because lots of them will come to us for secondary school.'