Christmas Concert 2017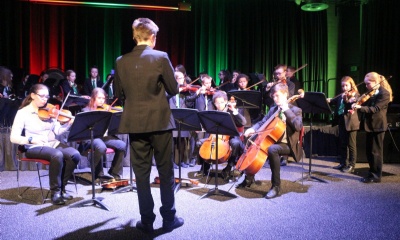 Our young musicians and singers took to the stage to kick off the festive season in style at our annual Christmas Concert.
The event was attended by hundreds of music lovers including family, friends, current and former staff members and our governors.
Throughout the evening, our audience listened to a variety of popular Christmas songs including Frosty the Snowman, Silent Night, We Wish You a Merry Christmas and Jingle Bells.
A range of classical and contemporary numbers also featured in the concert and consisted of songs such as Let It Go from the Disney film Frozen, Ravel's Bolero and Fix You by C Martin.
Comperes Jessica Walker, Sullivan Rymarz, Alan Zajac, Wills Ballantynes and Sophie Ducker guided the audience through the evening and kept them entertained in-between acts.
All songs were performed by variety of music groups including CBA Vocalize, Senior Vocal group, Junior and Senior Concert Band, Junior and Senior Strings, Senior Woodwind Ensemble and CBA Big Band.
As well as the music groups their were solos from Louie Anderson on trumpet, Jessica Walker on cello, Renji Komine on piano and Sullivan Rymarz, who is our first student to have a xylophone solo. He played Helterskelter by W G Lemon, and although he seemed exhausted after, the performance seemed to be a big hit with the audience.
Vocal soloists also stunned the audience and were performed by Rebecca Loveday, Wills Ballanytne and Bethany Aveyard. Nylissa Lay and Wills Ballantyne also sang a duet of All of Me by J Legend accompanied by Sullivan Rymarz on piano.
During the interval, the audience enjoyed a mince pie and our ever-popular non-alcoholic punch. This however came at a cost as they were roped into singing The Twelve Days of Christmas at the end of the night, led by some of our Sixth Form musicians.
Director of Music Mr Clive Wears said: ' Our annual Christmas Concert is always a popular events and it is great to see so many of you attend. We are very thankful for all the support we continually receive from parents, carers and the wider community.
The student's work extremely hard in preparation for the concert and it's fair to say their hard work has more than paid off. They gave a spectacular performance and should all be very proud of themselves.
'The concert demonstrated the wealth of talent we have here at CBA. It was also a chance for the public to hear performances from our Senior and Junior Concert Bands and Big Band, who have recently received Gold and Silver awards at the National Concert Band Festival.'
A big thank you to everyone that made the evening possible. We wish all our students and their families a very happy Christmas and New Year.
To view more photos from the event click here.