Author Tom Easton visits the Academy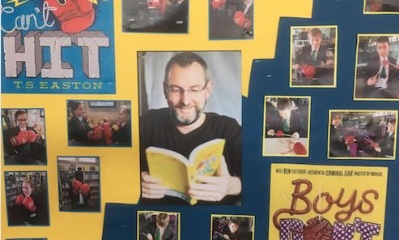 Author Tom Easton spoke to over 100 students from across the Trust at his recent visit to our Academy. The fiction author who writers as both Tom and T S Easton, depending on the genre of his novel, gave students an insight into his work.
Tom spoke in particular about his Carnegie nominated book 'Boys Don't Knit' and 'Girls Can't Hit', a funny feminist teen story. He shared his inspiration for writing stories, which break down gender stereotypes. Students were then able to ask Tom any questions they had and get their books signed.
After the talk, Tom ran a workshop with a select group of students. The boys had a go at knitting and the girls tried boxing. The students then had the opportunity to write their own stories. They were given three traits for a character they had to create and were then tasked with making a story around that character, helping students understand how to create and structure stories.
CBA Librarian Christina said 'Tom's books are very popular with our students and we have seen an increase in his booking being taken out since the visit. It's been brilliant having an author come into the Academy with such a positive message of breaking down gender stereotypes. The students all enjoyed the day and got fully involved with the activities and workshop.'
The visit was part of the Grenfell Tower auction, which was organised by authors, editors and agents to raise funds for the victims.