CBA music bands qualify for NCBF Final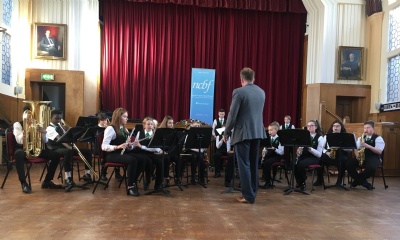 CBA's Big Band and Junior Concert Band are set to take part in the National Concert Band Final after they both received gold awards at the regional rounds of the competition.
The bands are part of only 12 musical groups who successfully made in through to the final stage of the competition. The event will take place at the Royal Northern College of Music, Manchester in April.
The festival is the largest, most active and enterprising for wind instrument musicians who play in wind bands or big bands throughout the UK and allows students to take part in a variety of masterclasses, workshops and concerts including the Big Band and Concert Band festival.
Director of Music, Mr Clive Wears said: 'this is the first year that both of the bands have been presented with a gold award. They both performed exceptionally well and it's great to see that their hard work has paid off. The finals will be a special day for everyone associated with the Academy. It's a wonderful opportunity for our students and I am excited to see them perform at the final stage of such a prestigious event.'
Music Teacher Louise Chapman said: 'we had a really successful day in Nottingham. We take the students to the competition every year as it's not only a great performance opportunity for the students, but they also have a chance to listen to performances from lots of other ensembles from across the country. We are now really looking forward to seeing them perform in the finals.'
If parents and carers require tickets to the festival, we advise you to contact the box office at The Royal Northern College of Music. Please note that you will have to arrange your own transport to and from Manchester.
To find out more information about the event and view the letter sent to parents and careers please click here.
To view a schedule of the festival please click here.