CBA celebrates 'Ambition For All' month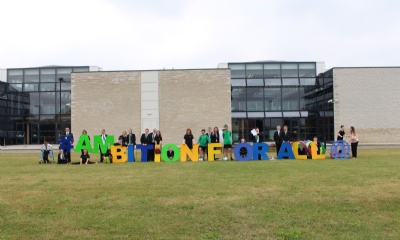 During the course of March we are taking over as torchbear of the Brooke Weston Trust 'Ambition For All' initiative. During the course of this month we have organised a number of activities both inside and outside of lessons to celebrate ambition.
To start the celebrations off, we are taking part in World Book day, in which the whole school will take part in a variety of book related activities throughout the day and staff will dress up as their favourite characters.
Next week we are hosting our cycling event at Rockingham Motor Speedway to help raise money for Prostate Cancer UK, one of the charities the Academy has chosen to support this year. The students will try to cycle as many laps as they can around the Oval track in the space of two hours. The event has been organised in support of our two staff member's, Mr Clive Wears and Ms Rachel Johnson, who are taking part in the Grand Depart to raise money for the charity.
Through the month we will continue to celebrate our Hot Chocolate Friday's which have been a huge success and enables us to recognise and rewards students who are consistently doing the right thing. Our students will also continue to generate their ideas for the #BeliveBIG2018 project. They are working on generating an idea, which will create a positive impact on the planet and could change the world.
Our successful Music Department are taking place in a whole host of events including the regional heats of the National Festival of Music For Youth, the Oundle Festival of Music and Drama and the National Concert Band Festival Final. The department will also hold their very own Ambition For All music recital which will take place at the Academy.
At the end of this month, staff will have the opporuntity to nominate one student each, who they believe has demonstrated the skills associated with ambition.
Associate Principal Janina Taylor said ' By hosting these activities throughout the month, we hope to support our students in developing independence, resilience and aspiration, which we as an Academy associate with Ambition.'
To find out more about the events taking place throughout the month please view our schedule below.