Academy's Young Enterprise Company launch book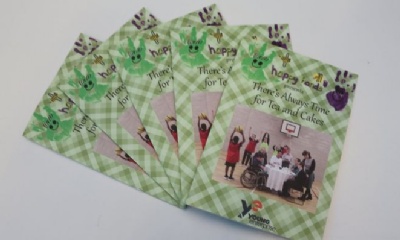 This week, our Young Enterprise Company Happy Hands' launched a cookery book full of their favourite recipes.
During the launch, friends, family and staff were invited to meet the team, purchase the book and try samples of the recipes, which included salted caramel cupcakes, chocolate squares, lemon drizzle and victoria sandwich. Students served the cake, spoke about their product, took money for the book purchases and served the drinks.
Over the course of the launch, the young business entrepereurs managed to sell over 50 copies of their book.
Link teacher of the programme Nikki Clark said 'The idea of the book came from the students. We wanted to keep with our theme of teacups and so it felt natural to create a bookbook themed around cakes, which is why we have called the book 'There's Always Time for Tea and Cakes'. The project gave students an opportunity to not only make a book from scratch but also try out their recipes, which helped them to gain further life skills.'
Bonnie and Donna from RS Components have supported the group and acted as their Business Advisors throughout the process. Bonnie said 'I come in once a month to support the students if they need help and advice with anything. During the process I have seen the students grow in confidence. I think making a real life product has really helped as well. They've had to go to the bank and get money themselves and having a completed product, which they can hold in their hands is very exciting and enables them to see what is possible.'
The Young Enterprise Team Programme inspires students with special education needs to work together as they set up and run their own real company. The team work together to design and produce products to sell in the local community.
Thank you everyone who came to event, supported our students and purchased the book.
Our next event will be our Unit Enterprise Sale and Café at Corby Business Academy on Wednesday 21st March 2018.