CBA achieve multiple awards at Trust enterprise competition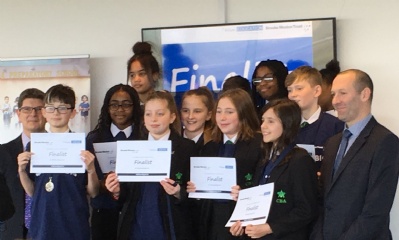 Our three entrepreneurial teams, who made in through to the finals of the Brooke Weston Trust Believe Big competition, all picked up awards.
The students were challenged to create an idea, which had the potential to change the world.
Snaplexia won second place for their snapband which featured a transparent overlay slip, which could be removed and placed over text to help people with dyslexia and visual problems.
They said: 'We got the idea because we have a friend with dyslexia and she has tried our sample one. They can be produced in different colours and a percentage of money raised would go to the British Dyslexia Association. We wanted to make it fashionable, affordable and discreet.'
'Bin Bonus' won third for their recycling rewards scheme, which measured the amount of recycling people put in their bins using a barcode. This generate points which could be transferred into rewards such as vouchers.
Team MELS won best poster for their colourful design which showcased their holographic face time watch idea, which would allow you to see the person you were talking to in 3D.
Associate Principal of CBA Janina Taylor said: 'I'm so proud of all the students; they've all done amazing to make it to the final where the competition was of a very high standard and for all groups to come away with awards is just a dream.
'All the groups created some brilliant ideas and pitches and as a business academy, it's also been wonderful to see our students using and developing their entrepreneurial and business skills.'