Easter Unit sale and Café is a hit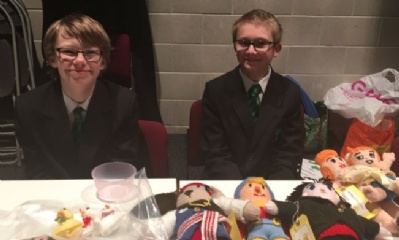 This year the Easter Sale was successfully held in the new venue of the main theatre due to the event's popularity. The Enterprise Sale comprised of a variety of stalls including tombolas, raffles, home-made gifts and Easter treats with a café selling cakes and drinks.
Happy Hands, the Academy's Young Enterprise Team Programme company, sold their new recipe book whilst customers enjoyed samples of cake made from a selection of the recipes. Donna Constable, the business adviser from RS Components, who helped the students through the process of creating the book, also came to support the team.
Mainstream students took part in the sale as part of the Young Enterprise Tenner Challenge and the library supported the event with a book stall and raffle to promote reading for pleasure. Students from the Unit helped in the café and on stalls, which gave them valuable opportunities to develop their life skills.
Link teacher of the programme, Nikki Clark said 'The event was well supported by family, friends and ex-students from a range of local organisations. One parent commented that it was the most welcoming environment that she has experienced in any school.
'The money raised will be used towards the Key Stage 4C Residential and help to fund Unit life skills activities, enrichment trips and interventions.
'We would all like to thank everyone for their continued support with our sale events and look forward to seeing you at Christmas!'