CBA host BWT Big Book Quiz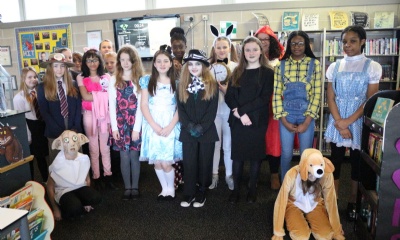 Secondary Schools from across the Trust gathered at CBA for the annual Brooke Weston Trust Big Book Quiz, attended by author Ross Welford.
Students and staff dressed up for the occasion as characters from their favourite books, including The Mad Hatter from Alice in Wonderland, Harry Potter, Cruella de Vil and Cat in the Hat.
To start the day popular author Ross Welford, who wrote What not to do if you turn invisible and Time travelling with a hamster, gave a talk at the Academy. Ross told the students all about his latest book The 1,000 year old boy and taught them how to write a story by sexplaining the key elements that make a story and putting this into practice by writing a story together with the children using their ideas. He then invited them to re-write at home and send them to him via email for a chance to win a prize.
When advising the students how to write a story, Ross said: 'First you must pick your characters as they will form the basis of the story. They will help you form your introduction and setting. The second thing you must then have is a problem, which you will need to find a solution to…this creates the plot. A popular basis of lots of books is 'lost and found' someone looses something and they go on a journey to find it. You see this in Lord of the Rings, Toy Story and even Frozen.'

Ross finished his talk with a quote from Rohl Dahl 'Good writing is essential re-writing' and said: 'Your final story will never be the one you first wrote, it will more than likely be your second or third draft. The first draft is where you get your rough idea of the characters and the plot and then you re- write this to make it better and iron out the details and tie up any loose ends you have.'
The students then had the opportunity to ask Ross any questions they had and purchase signed copies of his book.
Students then took part in a book quiz consisting of 6 rounds, which tested students knowledge of a range of popular books. During the rounds students had to answer multiple choice questions and guess the names of the books from a snippets cover.
Prizes were award at the end of the day for the teams which achieved 1st, 2nd and 3rd place. They each were awarded a selection of books and an easter egg and the winning team won the BWT Big Book Quiz trophy. Each students who attend also received a goody bag.
The winning teams are as follows:
1st place – Team Oz from CBA
2nd place – Team Book Nerds from TCA
3rd place – Team Down the Rabbit Hole from CBA
Student Scarlett said: It is such a fun day as we get to dress up and take part in lots of fun activities. My group also came third and we wasn't expecting to so that was nice.'
Students Diya said: 'I really enjoyed the day especially as we had an author visit, which meant I was able to get my books signed.'
Student Leigha said: 'I found the day very inspirational. The author taught me how to write a story, which I found very interesting and I was able to challenge myself in the book quiz. It was also nice to receive gifts and prizes throughout the day.'
CBA Head Librarian, Amy McKay said: We absolutely love hosting the event here at CBA. The students really enjoy testing their book knowledge and being able to share their passion for books with students from the other BWT Secondary Schools. I would like to thank our librarian Christina for organising the event and decorating the library.'
Well done to all the winning teams and to everyone that took part.