Operating Theatre Live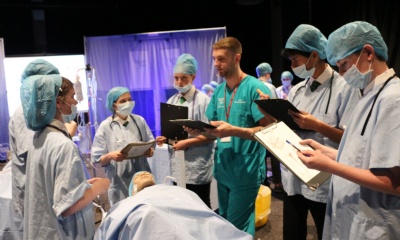 CBA held an operating theatre workshop attended by more than 50 aspiring medics.
The students gained valuable hands-on experience in a simulated operating theatre where they learned about medical careers, terminology and anatomy and handled and dissected organs including brains, hearts, kidneys and livers.

The students comprised Year 8 and 9 scientists, many of whom are hoping to pursue medical careers. The event, facilitated simulated the equipment and procedures used in a real-life operating theatre. The students calculated anaesthetic dosages, learnt about the anatomy of major organs and carried out practicals, including dissecting tissue specimens.
Sam Piri from Operating Theatre Live said: 'We run a number of different concepts aimed at getting students inspired to think about more STEM (Science, Technology, Engineering, Maths) subjects. The Government has just announced another 1,500 places and five new medical schools so it is really important that we enthuse the next generation of healthcare professionals. Operating Theatre Live is about making science hands-on, engaging and linking the academic side with the practicals.
'We are looking at the brain and spinal cord, the eye and some of the cranial nerves, the lungs, trachea and diaphragm and intubation, a medical procedure. We will also be looking at the heart and doing pathology dissections, prepping the specimen into different cross sections. In the final part of the day students will be looking at the gastro intestinal tract including the oesophagus, stomach and small and large intestines. It is a lot to cover in one day but our strategies are tried and tested combinations of lectures and practicals. There's a great mix of students today and they are all engaged, following instructions and answering questions.'
Science teacher Miss Davison said: 'Today has been such a fantastic opportunity for the students to further their understanding of human anatomy and how real-life medical situations are dealt with. I am so impressed with the knowledge and enthusiasm shown by all students that attended. It was definitely an opportunity of a lifetime to get hands on experience with the brain, digestive system and other organs. Those with strong stomachs even performed a heart transplant!'