CBA win best secondary category at music competition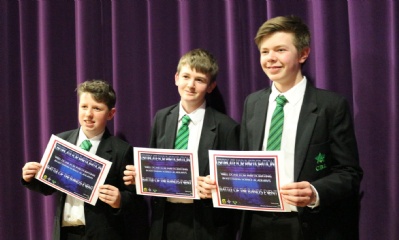 A group of students from Corby Business Academy recently took part in Kettering Science Academy's Battle of the Bands.
KSA's BTEC music students organised the event as part of their coursework and invited primary and secondary schools from across the Brooke Weston Trust to perform.
The group of students were chosen to represent CBA at the event, as they are take part of the Academy's bands and have taken part in various music competitions on behalf of the Academy.
They showcased their talents by performing a selection of songs with Wills on vocals, Sullivan on keyboard and Ben on drums.
CBA Music Teacher Miss Chapman said: ' The students performed amazingly, especially considering one of their members had to drop out last minute due to tonsillitis. They really should all be very proud of their performance.'
KSA Principal Mr Tony Segalini said: 'This event has been a wonderful way to bring all the schools together for the Brooke Weston Trust Ambition for All campaign by celebrating the ambition and talent of our students as a Trust. Well done to our BTEC students who have organised the whole evening, which was a great success and ran very smoothly on the night. I hope this is something we can continue to run in the future years and build upon.'
To view more photos from the event click here.