Ellie receives Courage Award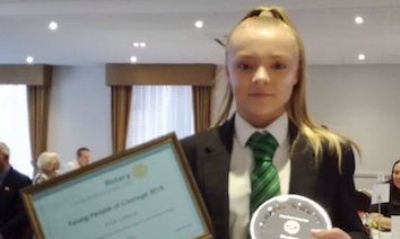 Year 8 student Ellie has been named a 2018 Young Person of Courage by Corby Rotarians.
Member of the Corby Rotary Phoenix Club presented Ellie with their prestigious award in recognition of her determination at a presentation afternoon held at the Holiday Inn.
Ellie was nominated by Corby Business Academy because she is an inspiration to others. Despite her medical issues, she gets on with life without complaints and always have a smile on her face.
Ms Sellars said: 'Ellie isn't a young lady that sits back because she has medical issues. It hasn't stopped her from previously taking part in karate, tap & ballet. These only had to stop due to an operation. In the future Ellie is hoping to start taking boxing lessons.
'In school, Ellie takes part all her lessons including PE, if she is in pain she will referee or coach. But even whilst in hospital and then recovering at home, Ellie made sure she never fell behind with her schoolwork and studies.
'Her parents and family should be very proud of her and it was my pleasure to nominate her.'