Sunday Funday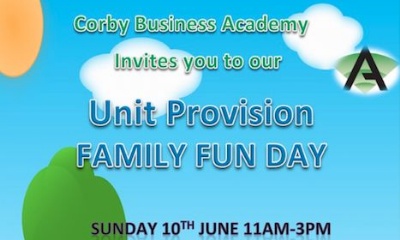 The Unit Provision is holding a family fun day at CBA on Sunday 10th June to help raise money to fund their Key Stage 4 residential trip.
The students have been tasked with raising the money and have organised the family fun day to help them raise approximately £2,000 needed for the trip.
There will be a variety of crafts stalls and handmade items on sale at the event. There will be a tombola, raffle and a variety of games, which people can get involved in as well as live music and a variety of food including ice-cream and hotdogs.
Mrs Brown said: 'So far the students have organised a variety of events such as washing staff cars and enterprise sales which has helped them raise £1,200 so far.
'Having to raise the money themselves has taught the students both entrepreneurial and event skills.'
Students will visit the Frontier Centre in Irthlingborough for a 3-day visit. They will take part in a variety of exciting activities such as raft building, high ropes, walk the plank and lots more. At night they will enjoy a singsong and activities around the fire.
Mrs Brown said: This trip is such an important event for our students as it allows them to take part in new experiences and develop a range of skills such as teamwork, leadership, communication and confidence.
'This year we are also taking a group of Year 9 students to help with their transition into Key Stage 4. The team building activities will help the students develop friendships in the new group they will transition into in September.'
The family fun day will take place at CBA on Sunday 10th June, 11am-3pm and is open to friends of CBA and the BWT family.