More A-level success stories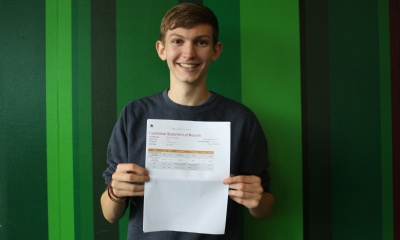 Read more about what our students are planning to do next:
Shona Duncan gained three B grades in English Literature, History and Psychology. Shona is now going to study English and Politics at the University of York. She said: 'I am so pleased to get into my first choice university. It's such brilliant news.'
Charlotte H gained a B grade in English Language as well as a Distinction in BTEC Health and Social Care and a Pass in BTEC Business. Charlotte is going on to study at Lincoln University. She said: 'I cried when I found out I received my first choice university. I've worked really hard and I'm excited to see what the future holds.'
Emily Russell is hoping to join the RAF and become an officer and pilot for the multi-engine aircraft in the future and is currently going through the application process. She said: I needed two C grades or the equivalent and I have achieved this so I am very happy.
Evie Berry (Head girl from 2016-17) gained an A in Psychology and two B grades in Biology, and English Literature. Evie is going on to study Psychology at the University of Leicester. She said: I am excited about going to university – learning more, new opportunities, new experiences and meeting new people. I have found CBA a highly informative experience and it's helped boost my confidence and pushed me to achieve more than I thought I could. I would like to thank you Mrs Hurcombe, Miss Johnson, Miss Davison and in particular Mrs Wood for all their support.'
Jack Green (Head Boy from 2016-17) gained a Merit in Sport, a Pass in BTEC Business, a C grade in Media and a D in English Literature. Jack will go on to study Computer Games Programming at the De Monfort University. He said: 'I am very pleased with my results and that the hard work has paid off. I really believe that what you put into your education is what you get out of it. I am excited to start this course as the technology industry is growing and I want a career in the industry to be a part of its growth and development and have always had an interest in the subject. I am really looking forward to university life and would just like to say a big thank you to Mrs Anderson for all her support and always being there.'