New leadership team at CBA has outstanding pedigree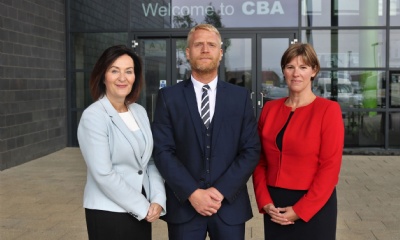 The Brooke Weston Trust is delighted to announce it has appointed an experienced and skilled Senior Leadership Team at Corby Business Academy. The team is led by National Leader of Education Anne Hill, who is also the Executive Principal for secondary education at the Brooke Weston Trust.
Anne has an impressive track record of school improvement which has earned her praise from Ofsted and the Department for Education. Nicola Treacy and Simon Underwood, are the new joint Heads of School who are taking responsibility for the day to day running of the Academy. Nicola was previously Senior Vice Principal at Corby Business Academy and Simon was formerly Vice Principal for Behaviour and Safeguarding at the outstanding Brooke Weston Academy. The hand-picked team has taken over from Associate Principal Ms Janina Taylor, who resigned for personal reasons over the summer.
Anne Hill said: 'Firstly, I would like to thank Ms Taylor for her hard work and dedication to the students at Corby Business Academy. I have very much enjoyed working with her in this transition period and am sorry to see her go. Her leaving has given us the opportunity to take stock of where the Academy is and to put exciting plans in place to move forward rapidly into a bright future. Working together the students and staff at Corby Business Academy have unlimited potential with modern facilities and fantastic resources which are the envy of other schools. As a community of learners and teachers we are capable of great things. This is the start of something special and we can't wait to get started.
'Simon is a very experienced senior leader who has served with distinction at Brooke Weston Academy and brings a wealth of knowledge on behaviour management and student welfare issues, as well as quality assurance. Nicola is already well known to staff and students at Corby Business Academy and has made a big impact since she joined in January 2018. As a team we will work closely with students, staff, parents and the Brooke Weston Trust to bring about sustained improvement and higher standards.'
Corby Business Academy is also welcoming Marianne Harris-Bridge as its new Chair of Governors. She is a marketing and business strategy specialist with extensive experience working in the education sector.
Trust CEO, Dr Andrew Campbell said: 'I am delighted that Anne, Nicola and Simon will be working so closely to deliver a successful outcome for Corby Business Academy during this period of transition.
Anne's track record is second to none. She is an exceptional Executive Principal who has consistently delivered successful outcomes in challenging schools and has been praised by Ofsted for her "sharp focus". Since joining the Trust in 2016 she has built up an enviable reputation for school improvement, team building and delivering results. Simon and Nicola are experienced professionals committed to supporting students, parents and staff in making Corby Business Academy a great place to learn and I am sure that the staff at Corby Business Academy will give the new team their full support.'
'Marianne and her new-look team of governors will work with the school community and the Brooke Weston Trust to provide high quality advice and challenge in equal measure, holding the team to account and making sure rapid progress is made in the right areas.'